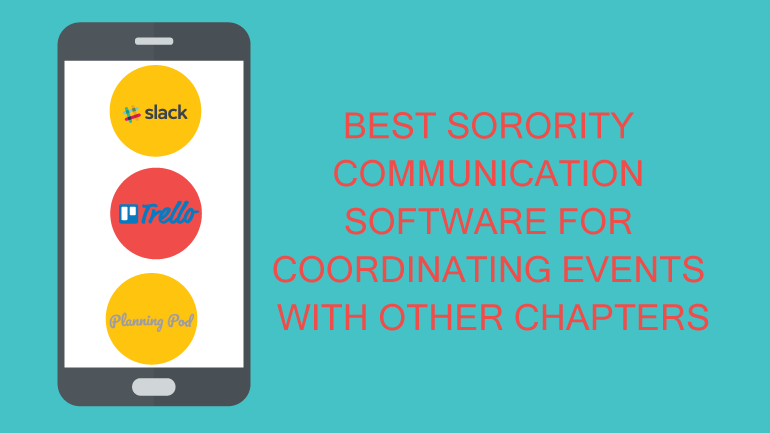 The conversation might go something like this:
Sister number one asks, "Who're you texting?"
Sister number two replies, "Lisa. She's from the Zeta chapter at Arizona State. I was going to try to get the Zetas to come out for [INSERT SORORITY EVENT] but I don't have any of their numbers. Maybe we can Facebook or something?"
"Oh, cool," sister one says. "Are they going to help plan the [PREVIOUSLY MENTIONED SORORITY EVENT]? Did they have any ideas?"
"Uuuuhhh . . . never mind. Sounds like a really big hassle," sister two concedes.
"Yeah," agrees sister one. "Sounds too complicated."
The Arizona State Zetas, sadly, think it all sounds a bit complicated as well and aren't able to make it to our completely made up sorority event.
Okay, so we admit that our scenario is ridiculous. It's not really that hard to plan an event, and if you're going to get to hang with sisters from across state lines, you're probably stoked enough to make the effort.
But our point is this. Why should there be any barriers between you and your newfound sisters? If you're going to plan a multi-chapter event, why not use software to make the planning as simple as possible and spend more time actually hanging out? If you think about it, there's really no reason to make sisterly bonding any more difficult than it needs to be.
That's exactly why OmegaFi wants to help bring you together with what we think is the Best Sorority Communication Software for Coordinating Events with Other Chapters.
Cut Sisters Some Slack

Slack is a multifaceted piece of sorority communication software that can help you communicate with your sisters from other chapters on both a personal and professional level. It's largely a type of digital conference room space, where certain conversations and people can be organized into different "channels" to make your discussions as effective and productive as possible.
If you're simply sharing some spring break pictures or talking about the new Drake song, Slack is definitely overkill. Just use a chat app, social media messengers or other means of one-on-one or group chat.
However, when we're talking about planning a multi-chapter event, including travel, event prep, budgeting and building a get-together itinerary jam packed with fun, fun, fun, Slack is the perfect communication software for your sorority to start with.
Not only can you video, voice and text chat, as well as share files and save every conversation in one place, but you can also connect Slack with tons of other apps. There are too many to list here, but we'll give you a few examples. Say one sorority chapter is going to contribute some money to another to go toward an event. Through Slack, you can use an app to manage payments from one chapter to another. There are also a number of invoice generating apps and even apps to help calculate your event costs. There are also tons of interactive apps for project management, analytics, design, file management and more.
What we're saying is that you can probably get the bulk of your communication and event planning done with Slack. Many businesses, large and small, trust Slack for their distance communication needs. And who says your sorority chapter can't mix business with pleasure?
With Trello, Say Hello to Sisters

Trello is a free and easy online solution to event planning. It's less of a Jack-of-all trades type of software as compared to Slack, but if you're looking for a streamlined, no-fuss platform to plan your event with sisters from other chapters, Trello is easy to learn and use.
The interface is essentially like one big filing cabinet, where tasks or "cards" can be categorized into different drop-down lists like "brainstorming," "to do" and "done." On cards you can create due dates for tasks and assign individual users, create checklists, as well as sharing files and chatting back and forth about a particular task. Like we said, it's not as comprehensive as some other apps, but the simplicity of it is one of its strong suits.
Any sister can jump right in with basically no learning curve and no cost, and Trello is task-focused with no distractions. This sorority communication software is accessible via your computer or a mobile device. If your sorority chapters are ready to get down to business planning your event, this is your get-down-to-business software.
For the Big Event, Sisters Want Big-Time Software

If you're planning a massive, costly event that will include sisters from many chapters or multi-chapter alumnae and other guests, free software may feel like it falls a bit short for your sorority communication needs. You may want to look into software tailored specifically to professional event planning. One such program is Planning Pod.
One of the main benefits of Planning Pod is that, while there may be a cost to your chapter to use this software, it immediately centralizes not only all aspects of event planning but event communication as well. This is the kind of heavy-duty software that offers features such as managing schedules, budgets, tasks, calendars and checklists. You can also use it to create floorplans, event webpages, collect registrations and RSVPs online and even check people in at the door electronically.
Most importantly for all the chapters involved in planning your event, you can communicate with forms, messages, files, notes and shared images. Planning Pod can help plan essentially any style of event a sorority might hold, from a gala to a fundraiser to a conference. So when you're planning the big event, you may want to consider splurging on big-time event communication software such as Planning Pod.
These are a few examples of what we consider the Best Sorority Communication Software for Coordinating Events with Other Chapters. But whatever software you use, be sure it helps make event planning for all sisters involved as painless as possible. Have you planned a multi-chapter sorority event using communication software before? What worked and what didn't? Any suggestions? Give us your reviews in the comments below.