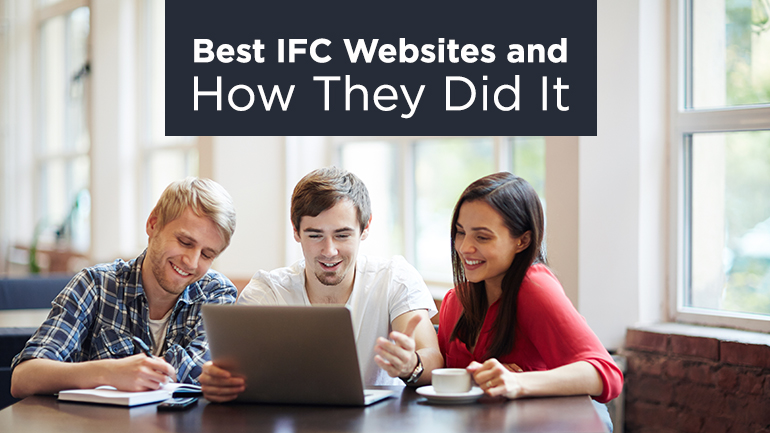 Going to college is one of the best times of your life. If given the opportuntiy I would go back and do it all over again in a heartbeat. Your college experience is made great for so many different reasons. You are getting your first taste of independenance, studying in a field you are passionate about, meeting new people, exploring new places, and of course all the activities. A college campus is your oyster!
University sites are dedicated to attracting young, ambitious, shining faces to enroll and join their campus to become the next Nobel Peace Prize recepient and give their university some credit. Same goes for the student activities page on the university's site. They want you to get involved on campus and feel connected and become an ambassador of the college experience. The more entrenched you are with campus activities the better.
That brings us to the IFC sites. Just like the university's homepage, student activites page and any other site out there the purpose of the IFC page is to draw you in, inform you, and excite you. Below, OmegaFi presents 3 of the Best IFC Websites and How They Did It. Just like every person has a different personality, the same can be said of webites. From this point forward, we're willing to bet you won't see websites again in the same way.

First and foremoest, this site is visually stunning. It immediately evokes a sense of pride in the university with a breath taking image of the sprawling campus in the morning light. It makes you want to wake up early and jog around campus (or at least walk to the nearest coffee shop) before spending the rest of the day crammed in a book and or stuck in student government meetings.
Their header language is also empowering, "The Governing Body of Men's Social Fraternities". With that one sentence they are telling the user that they are the place you need to be if you want to be a part of a men's fraternity.
Next, you have a streamlined, precise navigation menu structure. It's sleek, clean and to the point. You can easily find what you are looking for, and most importantly, parents have a tab all to themselves where they can learn more about IFC and the servies they provide to their son. As discussed in an early blog we posted titled, 7 Things Your Parents Want to Know Before You Go Greek making an effort to inform and "woo" the parents is always a good idea. As independent as you feel, keeping your parents in the loop is always key.
Most importantly the site is up to date. All sections have accurate and releveant information for the current year. This is important for obvious reasons. If you come across out of date information on a particular site, how likely are you to trust any of the information that site has to provide? Keeping your IFC site (any site for that matter) up to date is paramount.

Immediate impression when first visitng this site is "bright and fun!" The site greets you with what you may identify with as your fellow fraternity brothers. That feeling is called inclusion, and it's a great first impression for new visitors! After all, Greek life is a brotherhood (or sisterhood), so why not showcase it. Below this initial image is a great message from the IFC President regarding tradition, university pride, leadership and overall praise for the IFC program.
The site is mainly a single scroll site that allows you to see some pretty important information right off the bat. After the warm and and fuzzy greeting you are hit with some impressive IFC stats. Displaying stats, (especially impressive ones that the IFC program at the University of Florida is throwing up on the board) is a great way to show pertinent information in seconds. The site shows the user that they currenlty have 2,813 active brothers on campus. That is more people than reside in Eureka Springs, Arkansas (did someone say spring break trip?). How cool would it be to become a part of a tribe of over 2,000 brothers of the Greek life system? Don't answer. It'd be pretty awesome.
Continue to scroll and you are presented with the IFC's officers, recent news and ways to contact and connect with the university IFC office. It's a great site that intrigues and informs. Dare I say it…? GO GATORS!

Last but definitely not least, we give you the IFC site of Washington State University! Without a doubt, their IFC site personality is fun with a capital F! The site opens up with a video montage of various Greek life events and campus involvement, and immediately makes you want to throw on your letters and participate in Greek week. The videos continue throughout the landing page and lead you to want to learn more on how to become a member.
As you continue to scroll you are introduced to all the necessary information one would want to find when visiting an IFC site, plus a little more. Did I mention stats are important? And they definitely have them in spades.. With 27 fraternities represented on campus and over 36,000 community service hours clocked, these guys know how to have a good time and give back.
The WSU IFC site not only showcases brotherly love for the campuses organizations, but also for Greek life as a whole. This site is like a silent hype video for all things student and Greek life.
If we have said it once, we have said it a million times, websites are important to Greek life culture and involvement. You Greeks are doing great things, so show it off! Don't forget OmegaFi is always here to assist you with website services for Greek life chapters using our Vault service.
Do you know of any awesome IFC sites? Let us know in the comments section!