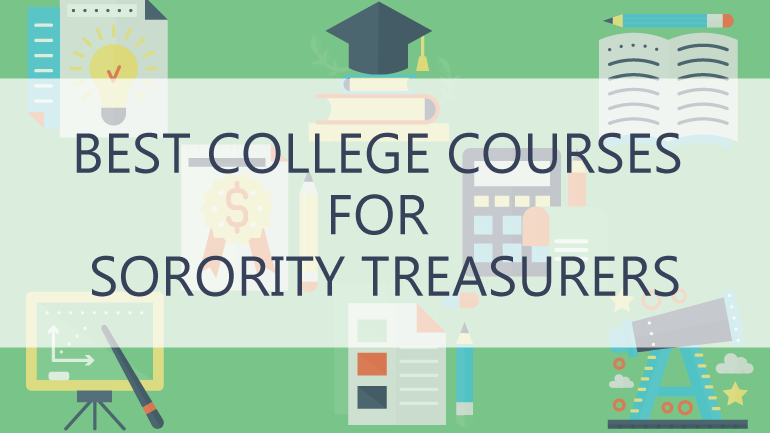 As a sister, you have a lot of responsibilities to juggle day in and day out. You're a college undergraduate, for one thing. That means you are out on your own likely for the first time. You're meeting new people and being social, but also keeping up with studying and writing term papers, diving head-first into sorority life and trying to squeeze in a few hours of sleep when humanly possible.
It's a lot. And it may not feel like it right now, but these are the years where you really become yourself and mature into the young woman you're going to be once you graduate and move into the professional world.
We may be dinosaurs compared to you ladies, but with age comes experience, so they say. Being a sister is a trial by fire that will only make you stronger and more prepared for the world that awaits you--especially if you take on an officer's role as important as sorority chapter treasurer.
But how can you get the most out of your experiences? Where does sisterhood meet the classroom? Can we get some synergy going here? And can we please not use words like synergy anymore?
Okay, okay. Fair. But we would like to help you bring your college experiences as a sorority treasurer and as a student together in harmony. That's why OmegaFi would like to act the part of academic advisor and chat with you about the Best College Courses for Sorority Treasurers.
1. Public Speaking: a Sorority Treasurer's Voice

The great thing about this course is that it works for you on multiple levels. As a college student, it likely fulfills a basic requirement for your degree program. Yet in the larger scheme of things, it helps you become adept at communicating a message effectively and efficiently to a large group of people. This will help you in many facets of your life, professionally and otherwise.
It also helps you now, as a sorority treasurer. The fact of the matter is that a treasurer will be required to communicate complicated information about the budget to her sisters in a way that's easy to understand.
You're going to give updates about the budget from time to time. You're also going to want the budget process to be as transparent as possible, as you work through it with your sorority finance committee. At times during budgeting you may have to facilitate compromises. Additionally, you may have to consult with national advisors and university officials regarding chapter finances.
Public speaking will also give you tools to communicate effectively with alumnae when soliciting donations a fundraising capital campaign.
If you can find your public speaking voice, this college course will go a long way toward helping you become a more effective sorority treasurer.
2. Computers Are the Future of Sorority Finance

There are introductory classes for computers offered as electives at many universities. If you're not already pretty savvy with computers and software, these courses can help give you a rudimentary idea of how to effectively use these tools.
But did you know that using sorority software effectively can greatly benefit your chapter and you as the treasurer?
Modern sorority software moves beyond the basics of phone applications and offers effective solutions for managing your sorority's finances.
With features that allow constant management and financial reporting, access for sisters and their parents to make payments online and many others, you'll be able to get the most out of your financial sorority software to ensure a healthy budget and a happy chapter.
3. Professional or Business Writing: When the Sorority Treasurer's Ink Dries

Writing is a lost art for many. This is a shame, because effective written communication benefits businesses and organizations of all shapes and sizes, and a sorority is no exception to this rule.
While not technically a business, a sorority definitely behaves like a business in some ways. For example, it stands or falls on the merits of its budget like any other organization. Thus, a sorority needs you, oh valiant treasurer, to be as effective as you can be at managing the sorority's finances.
But in order for any aspect of a sorority to be run well, you need to know how to write and keep records, correspond with sisters, executive officers, national advisors and alumnae. There may be financial, banking and insurance documents you'll need to be able to understand and possibly sign off on. You'll need to present the ever-evolving budget and keep track of sisters' dues, payment plans and discounts for early payments.
In other words, an effective treasurer will create a paper trail, and a college course in professional or business writing can help you do just that.
4. Music to Her Ears, or How the Sorority Treasurer Got Her Groove Back

Playing a musical instrument has a ton of benefits, including making you think logically. But even if you aren't a musician yourself, simply studying and learning to understand music in some basic way gets you to not only engage with music itself in a more subtle way. It also gives you a fresh way to think about other problems.
Don't believe us? Take an introductory college course in music, and we'll try not to tell you we told you so. (But we told you so.) Music is fun to listen to, of course. But it also has structure and form. And it's got a lot of math. If you haven't studied music theory before, this may be surprising. But music is full of mathematical concepts.
Enter sorority treasurer stage right.
Not only can you begin to think of music mathematically and see how complex, changing structures work, but you can also see the musicality of the chapter budget. A chapter budget is, like music, ever evolving with moving parts you can manipulate to make it sing.
Yes, we're serious! Warm up those pipes and belt out a few high notes in honor of a strong budget, even if it's just alone in the shower.
These are a few of what we consider the Best College Courses for Sorority Treasurers. What courses have you taken that have helped you become better treasurers? Tell us about it in the comments below!