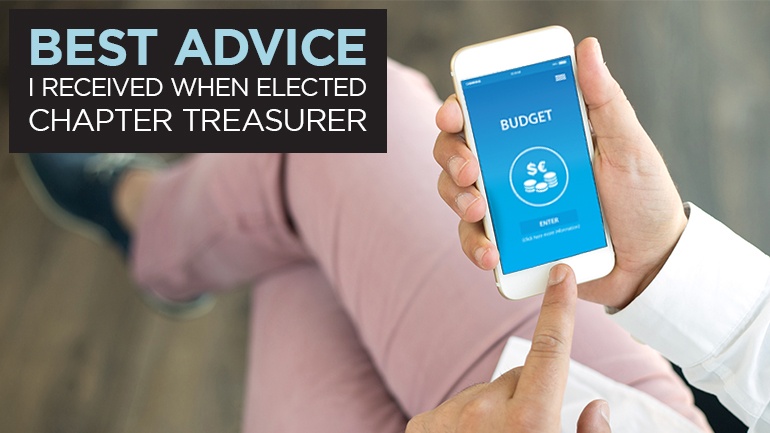 What's the best advice that you received when you became the new treasurer for your chapter? Maybe it was to offer an incentive for members who could pay in full so that you could supercharge chapter funds for rush and social events. Or maybe it was simply where to find the best deals on t shirts and apparel for your chapter. These are great tips, and are definitely helpful, but are they going to enhance your chapter's finances for the long-haul?
When I was elected Treasurer for my chapter, I remember having a lot of feelings. I was mostly excited, a little bit nervous and definitely overwhelmed. Several executive board and advisor meetings later, I was feeling even more overwhelmed than before with all of the advice that I had received regarding how to handle my chapter's finances.
Below is a list of some of the best advice that I received when I became the treasurer for my chapter.
Saving Money

Offer an incentive so that members pay in full at the beginning of the semester.
This is a great opportunity to boost bank account funds early in the semester. There are a lot of members and parents who would prefer to make a one-time payment opposed to doing so monthly. Take advantage of this and offer them a raffle for a free formal or something of the like that would excite your chapter members.
Offer a monthly payment plan for members who are not able to pay in full.
Not all members and parents are able to pay in full and find it easier financially to make the monthly payment. This option is just as great because these members will boost your bank account funds continuously throughout the semester. It will give you an insight into the expected revenue throughout the semester.
You don't have to use the same T-Shirt company that your chapter has always used. While there is nothing wrong with this, there are lots of T-shirt vendors. My personal favorites were Greek Shirts that Rock and Xi Boutique. By doing a little research, I was able to find better prices, which allowed us to order more t shirts each semester. Does your chapter partner with OmegaFi? Then check out The Graphic Cow. Their systems integrates seamlessly with myOmegaFi and allows for easy ordering and billing to your members.
Past Due Balances
There's lots of advice and opinions on how to handle members with past due balances. Advice on this ranges from temporary social inactivity to pursuing collections. Unfortunately, there is not a one size fits all solution for this. Just be sure to do something, because doing nothing is not the right approach.
Use your Advisors, Alumni, Leadership Consultants and National Office.
Don't be afraid to ask for help. If your chapter has an advisor, you know how helpful they can be. If your chapter does not have an advisor, ask local alumni for help and advice. Also, your leadership consultants and national offices are great resources and are more than happy to assist you. All you have to do is reach out to them!
Budgeting

Budgeting may seem boring and balancing a checkbook may seem outdated, but they are essential when it comes to managing finances for your fraternity or sorority. Have the mindset that you need to pay national dues first and rent or other local expenses second. Any leftover funds beyond this can be spent on social and recruitment activities.
Paying Bills

Do fraternities and sororities have bills to pay? Yes, they do! Fraternities and sororities are nonprofit business organizations and do have financial obligations, specifically the ones mentioned above. Sure, we're paying dues to fund our social events, but we're also paying dues so that we can ensure our national dues get paid and we're trusting the treasurer to make sure that happens.
Your sorority/fraternity is a business and you are responsible for managing its finances that way.
Out of all the advice that I received, this was the best, not only because it helped me to view my organization in a different perspective, but also because it made me feel important and proud to have been elected as treasurer. This made me realize there is more to the position than just asking members to pay their dues on time. With this advice, I was able to ensure my actions set up a solid long-term financial foundation for my chapter. So as the new treasurer of your chapter, I encourage you to really think about your organization as if it were a business and strive to manage the finances in a way that will leave your chapter in a better place than it was when you took office.