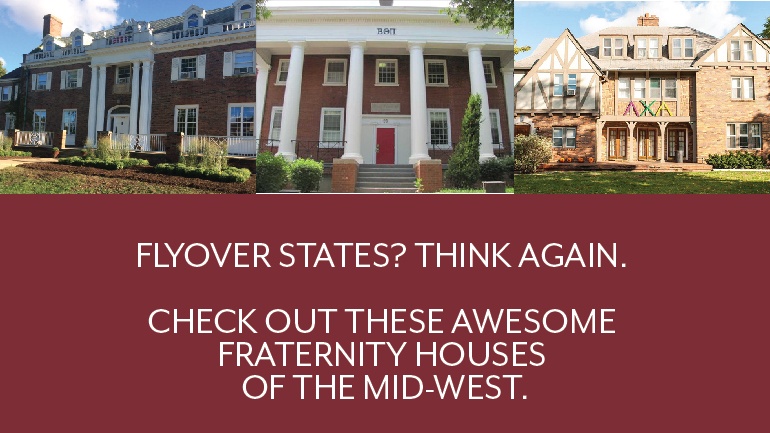 We couldn't showcase every awesome North American fraternity house if we tried. There are so many qualities that make these houses impressive. Some fraternity houses are really big. Meanwhile, houses on Greek Row usually get all the attention--but the beauty of some off-campus fraternity houses will take your breath away. And yes, many of the best examples of fraternity living are right here in the good old United States of America. Yet Canada has its own share of wicked-cool fraternity houses.
Still, it's unfair that we often think of these houses as the best "from coast to coast." The expression implies there's something between the two destinations, but doesn't give due recognition to the American heartland. This can leave Mid-Westerners feeling insulted.
Residents of these culturally vibrant middle-American regions rightly feel scorned by a term like "Flyover states." While trash talkers hurl this slight from their first-class thrones, 30,000 feet in the air, many Mid-Westerners are happy to stay planted in the communities their families helped build.
This stick-to-it-iveness is exactly what lends Mid-Western fraternity houses their stalwart character and ageless candor. OmegaFi wants to prove the naysayers wrong once and for all. Flyover States? Think Again. Check out These Awesome Fraternity Houses of the Mid-West.
Alpha Tau Omega - University of Illinois

Alpha Tau Omega's Gamma Zeta chapter at the University of Illinois boasts one of the most awesome fraternity houses in the Mid-West, or anywhere.
While these brothers deserve much respect for their current chapter house--an intimidating bricked manse that demands the respect of all collegiate Greeks--this is not where their journey began.
These brothers rented their first chapter house, modest by comparison, at 505 East Green Street at the turn of the twentieth century. They quickly realized this house would be a temporary solution, so they worked toward a house that could compete with the top fraternity chapters on campus.
After a few years, with the help of their alumni, they built a house at 405 John Street, where they lived until their chapter outgrew it nearly two decades later.
They built themselves into such a powerhouse organization that the Alpha Tau Omega men could finally have a house that reflected their resilience and growing ranks. While construction took time and faced economic challenges during the Great Depression, eventually brothers got their massive Greek-pillared brick house, with an additional wing built on later with crucial space for study rooms.
Brothers fought hard for their perfect Mid-Western fraternity house to become a reality. The only thing more awesome than their house is their story.
Beta Theta Pi - Ohio University

The Ohio University Bobcats football squad faces the Miami Redhawks each year in the hotly-contested gridiron Battle of the Bricks, so named for the two campuses' beautiful brick architecture. Consequently, OU sports some fantastic bricked fraternity houses. The Beta Theta Pi Beta Kappa chapter owns just such a house, perfectly embodying the campus's history and character.
The Beta Theta Pi fraternity came to be in the mid nineteenth century, when brothers founded the organization at Miami University. Since then they've grown to an average of 78 men per chapter with some impressive accolades, including the highest overall GPA of any fraternity.
Twenty-five brothers live in the twenty rooms of what the chapter refers to as "the castle," and on the roof sit the fraternity's bronze dragon and crest, which together comprise the only statue of its kind. These brothers kick back in their theater room, media room and back patio with games of corn hole and cookouts.
If the Battle of the Bricks were about fraternity houses with Mid-West grit and panache, the Beta Theta Pi men at OU would win, hands down.
University of South Dakota - Lambda Chi Alpha

Many Americans know South Dakota for its rolling prairies, glassy lakes, lush forests and towering hills and mountains. It's also the Mount Rushmore State. Washington, Jefferson, Lincoln and Roosevelt watch from above as visitors from around the world come to witness the presidents' sculpted faces.
Their sober gaze seems to be telling tourists and natives alike: You have a lot to live up to.
What about the Lambda Chi Alpha men at the University of South Dakota? Are they up to the task?
Judge for yourselves.
Lambda Chi Alpha's Alpha-Gamma Zeta chapter actually started out as Sigma Delta Upsilon (to match the letters of South Dakota University) in 1914--predating those Rushmore dudes by decades.
A few years later the chapter received its charter under the Lambda Chi Alpha letters. These brothers proudly showcase their academic success and philanthropic efforts, and work to achieve both in their fraternity house.
This house has a simple country home feel, with a Tudor revival architectural style, a perfect reflection of the Mid-West vibe. Is it the biggest house ever? No, but that's part of its charm. It's not a monstrosity, yet it's amply big, with a straightforward design. The brick and woodwork, twin steepled roofs and central chimney overlook a patio and lush lawn, surrounded by trees.
It's rustic. It's humble. It's inviting. You might even say it's majestic, like something out of a storybook. Lambda Chi Alpha's fraternity house exudes awesomeness without being flashy. Brothers have plenty of reasons to brag, but there's no need. Give them a visit and you'll see what we mean.
Fraternity houses come in countless shapes and sizes. The west coast and east coast each has its share of impressive Greek Rows, but credit where credit is due: The Mid-West vaunts some of the most knock-down, drag-out awesome fraternity houses. And we think all the people "flying over" are missing out.
These are a few of our favorites, but there are just too many awesome Mid-West fraternity houses to include here. Who got snubbed from our list? Share your favorites in the comments below.