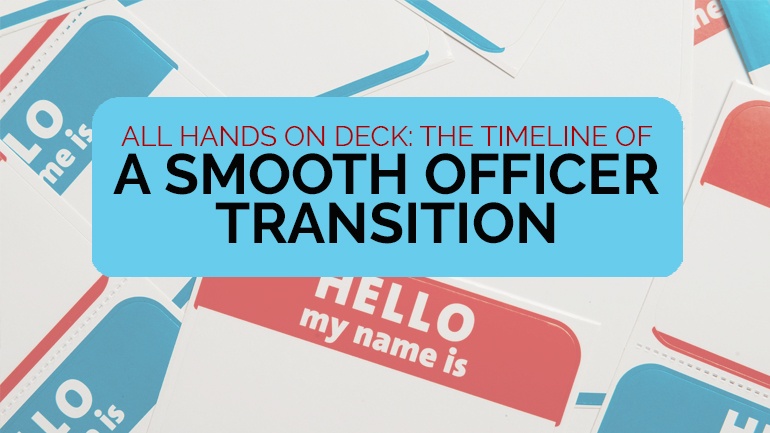 Are you ready? Good. Here we go…
THANK GOD!
You're done. You made it! It's the End of Term (EoT), your tenure is finally over and it's time (thankfully) to turn over the reins to the next guy/girl.
Time to sit back, relax and attend general body meetings like the rest of the common folk, right?
What do you think?
Wrong.
Of course it's wrong. You knew in your heart of hearts that was wrong. With great power comes great responsibility (please don't sue us, Marvel). That means it's up to you to make sure the machine continues to run smoothly with a new part. This means you need to do your officer transitions the right way.
And to ensure that the right way is very fairly the easy way, OmegaFi has your backside. We're here to teach you how to react with All Hands on Deck: The Timeline of a Smooth Officer Transition.
Step 1: Begin Transitional Shadowing -- 3 Months before Transition

You're three months out at this point, which means you've got plenty of time to allow your replacement to start shadowing you—depending on how early you conduct your elections. At this stage, you really don't have to worry about teaching. The only thing you need to do is make your replacement aware of your schedule and invite them to sit in. These sit-in sessions can be during meetings, one-on-one interviews or simply choosing to forward finished documents to your replacement for review.
Seeing the job hands on can be particularly enlightening for any transition. So, don't rob your replacement of that opportunity, or worse, let them shirk it completely and show up on day one with zero experience.
As an officer in your organization, your responsibility is to the longevity of your chapter, and ultimately, its success as long as you're in it. So, make yourself available and get used to having an extra shadow.
Step 2: Create a Write-Up of All Your Duties and Responsibilities -- 1 Month before Transition

Next up: Take the time to sit down and write out your current list of duties and responsibilities.
Every.
Single.
One.
Yes, we get that this can be a time-consuming and very annoying process. Trust and believe after spending a length of time on your first sit-down, you will invariably come back to it having remembered some other duty you need to add.
That's fine.
Let the document be a living one. Alter and edit it as much as you can; you're still a month out before the transition. It will be a tremendous guide for your replacement stepping into your position, as it will outline all the small details of what they've already witnessed (from shadowing), enabling a seamless transition.
Step 3: Exit Interview (Time for Questions) – 2 Weeks before Transition

In the corporate world, there's a practice after you leave the job to do one final exit interview. The point of this is to give yourself and your employer the opportunity to ask any final questions and give feedback on the position. This back and forth generally pertains to how you feel you've been treated, why you're leaving and any remaining loose ends to your transition out of employment.
For the purposes of officer transitions, these exit interviews should primarily be your replacement's opportunity to play the role of employer. In this role, they should be asking you questions regarding your duties and responsibilities, while giving you the space to provide any further documentation necessary.
Step 4: The Trial Run – 1 Week before Transition

This one is pretty simple, actually. Within your last week—if possible, depending on your role—give your replacement the opportunity to handle the responsibility of the role with some assistance. This means, if you're going to lead an officer meeting with your board, let your replacement sit in, watch, and give a few directives on your (or their) behalf.
This will be a good short-term opportunity to get a real feel for the job they'll be doing and lead to a smoother transition as a whole when it's time for them to sit in the big chair.
Step 5: Transition – Early Assistance – 1 Week Post Transition

Awesome. So, you've officially handed off your duties and responsibilities to your replacement and you're ready to sit back and relax.
Hold your horses, sir or madam.
You need to make yourself available for any questions that may come up during their first week. Your replacement will undoubtedly have a question here or there ("Where is this asset?" or, "How do I do this?") regarding something they don't grasp or you have failed to include in your Tasks & Responsibilities write-up.
Give them a little wiggle room to get their balance before you let go of their shoulder.
Step 6: Transition – Check-In and Release – 1 Month Post Transition

The final step. You made it. After about a month of letting your little chick of a replacement spread their wings and fly, it's time for one last check-up to see how they are doing in their progress.
This should be a simple one-on-one that's scheduled to accommodate your replacement's new schedule, but should be pretty informal overall. Simply put, give your replacement the opportunity to vent about certain things they've experienced on the job, ask questions, and generally pick your brain a bit.
This is when the experiential questions come up:
How do I get more out of my members?
How do I form better relationships with my executive board?
How do I manage my own personal time with the role?
Your job as the ex-position is to simply be a soundboard. Be helpful, be instructive, and offer advice through experience.
You can almost hear the rocking chair in the distance…
If you've been an officer and have had a nightmare transition, or even if you've got a few helpful hints, let us know in the comments below!