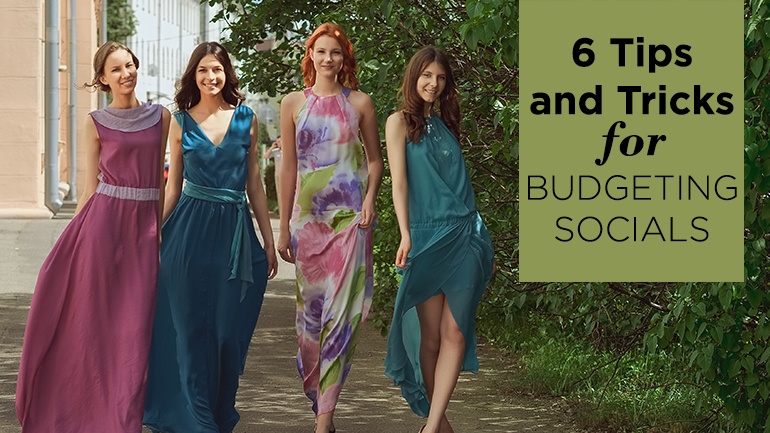 So you've been voted in as the chapter treasurer, and after a bit of gloating comes the sobering reality: You have to actually balance the chapter budget. It can be a daunting task, and you may rightfully end up being so focused on budgeting for the most pressing concerns--housing, recruitment, national fees, et cetera--that by the time you get to planning socials, you're working with pennies. What will your brothers or sisters think? The formal coming up is going to take precedence with what money's left, so the social budget is hurting even more. If the social gets dropped, you'll never hear the end of it. And rightfully so. The chapter was depending on you to carry out the duties of the treasury.
We at OmegaFi posted about budgeting for the treasury extensively. And luckily, a good treasurer would already have been on top of these issues, studying what the chapter has done in past semesters, asking other members about what's worked before and what they recommend. The reason this is important is twofold. For starters, you get invaluable advice and don't have to saddle the responsibility by yourself. Secondly, you can figure out what fellow chapter members actually want in terms of budget concerns, for many areas of chapter activities, but also for socials. With that in mind, there are some tried and true methods established by brothers and sisters who have "been there, done that," as the saying goes. Thus, to make sure your party is hearty, OmegaFi would like to offer you 6 Tips and Tricks for Budgeting Socials.
6. Hire Local Talent

Yes, that's a good idea in general. But we mean local, local. As in, you should phone a friend, pool resources, and ask around your chapter to see who has what talents. You might already know some of this information if your chapter has ever participated in a talent show. Think back. Did Susan know how to ballroom dance? Didn't Phil used to work at the casino? Isn't he a card shark who knows all those neat tricks and casino games? And who has that aunt and uncle who rent out a cottage on the beach? Can anyone say discount? The idea here is that when on a budget, consider having Susan teach the chapter to ballroom dance, and bam, you have an awesome, fun social idea! Or have casino night and let Phil run the house. Figure out a way to weasel your way into that beach cottage for the evening.
5. Back to That Aunt and Uncle . . .
Let's talk about them a little more. Hunt down that person with the relative, or who has an in through a company, or runs her or his own company that can help out. In college, I worked with a fellow fraternity alumnus who ran his own coffee roasting company. You never know what products or services sisters and brothers have access to, and what they or those they have tight-knit relationships with might be willing to donate to the cause of your chapter's rip-roaring good time. Maybe try to foster a relationship between the chapter and these folks for mutual benefit; see if members want to invest or purchase what they have to offer individually, too. After all, Greek life is all about networking. You scratch their back, they'll scratch yours!
4. Coupons

Ever seen Extreme Couponing? It's a television show about people who coupon so heavily that they cut and slash the costs of shopping massively. Do that. No, seriously. Maybe you won't have the time or gumption to sit there cutting trash mail inserts to save pennies here and there. Yet, as college students on your own tight budgets, you've all surely heard of, and probably already use, Groupon. In case you've been living under a rock, Groupon is an app which allows you to save big on a wide range of products and services--everything from food, to electronics and cars, to events around town and travel plans, and more. It's been a favorite of many students trying to have fun and go out with friends, but also to get deals that allow them to keep them from going completely broke. So, looking to order pizza and finger food, subs, or ice cream for an ice cream social? Looking to rent some jet skis for a fun day at the beach (or just skis, for the more mountainous snowy areas)? Groupon and similar avenues of discounts likely offer a way to save.
3. What's expendable? What's not?

This general budgeting tip definitely applies to socials. If you're having a pizza party, it goes without saying that there should be enough money allocated to, you know, pizza. But do you really need plastic utensils or paper plates? These seem laughably miniscule expenses, but they add up if you find a way to get creative enough. Surely a sister or brother has a Nintendo 64 or a Playstation 4, depending on if you want to go retro or new-age with your gaming. At the very least she or he has a copy of Animal House. Hook it up and voila, entertainment for the pizza party.
2. Compare and Contrast

Budgeting for a social, or any type of budgeting, really, requires you to not settle on the very first price point you stumble upon. Say you're hiring a caterer, or say it's a costume themed party. You'll want to compare and contrast different food services and different costume shops, as an example that can be applied broad spectrum. Keep your eye on the prize, and find that intersection of affordability and quality. Your chapter's pocketbook will thank you.
1. BYO

This budgeting point requires some finesse; if you employ it skillfully here and there, it can be a great way for the chapter to contribute together to augment a fun social. For instance, BYO, which stands for "bring your own" can mean a sister might bring her own cards and chips to poker night, or a brother might bring his own glow in the dark Nerf football to toss around when the party moves outside. Yet, if you rely too heavily on this, you're going to get push back: "What the heck are we paying dues for?" So make sure you don't just use chapter members as a stop-gap when the budget gets tight. They won't appreciate it, and it'll seem like sloppy work as the chapter treasurer.
These are a few tips and tricks for budgeting socials that we find pertinent. If you have any budgeting tips that have helped your chapter's socials "Rock the Casbah" so to speak, feel free to let us know in the comments below.