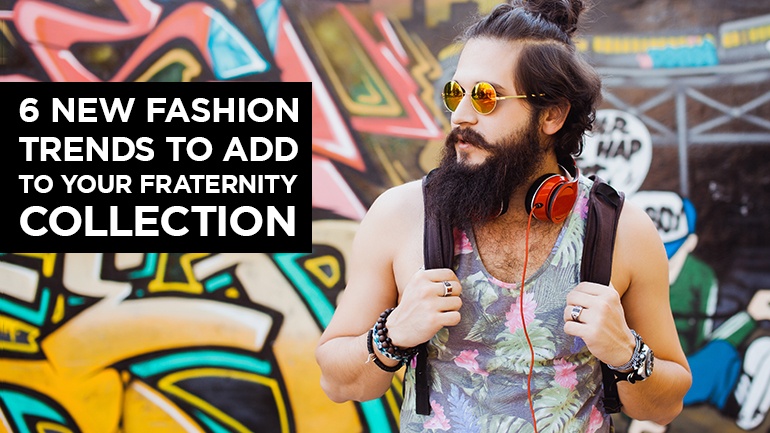 Let's be serious for a second here. The way you dress matters, and for many fashion-conscious men, dressing well doesn't just make you look good; it also makes you feel good. As men, we may not always be the most ardent shoppers, but we know that often the first words spoken to the beautiful girl across the bar were communicated said before we ever said a word: our clothes have made the introduction.
We've all been taught that the most important impression is the first impression for a good reason: the way you dress can have a direct effect on the way others treat you—for better or worse. There is a stark difference in how you perceive the man who arrives alone to a social banquet in board shorts and a tank top, versus the man who arrives in a tailored three-piece suit with a beautiful date on his arm.
In most cases, we judge others based on their choice of fashion and its appropriateness for the setting at hand. Although the standard fraternity collection worth its salt consists of the obligatory chapter tank tops (maybe a few sorority tank tops to show a little co-ed appreciation), polo shirts, wrap-around sunglasses, Sperry brand boat shoes, and more than a few pairs of Dockers shorts and pants, for those who wish to add a bit more panache to their fraternity collection's repertoire, we here at OmegaFi have got a few suggestions to raise your swag levels over 9000. You ready?
With your benefit in mind, here are 6 New Fashion Trends to Add to Your Fraternity Collection this year.
6. Bandanas for the Casual BAMF

Bandanas are the quickest shortcut to looking like a badass without having to sit down and get a tattoo. At over a few centuries old, it originally was used for more practical purposes such as dabbing away sweat or covering a sneeze. However, in the 1970s and 80s, its popularity widened into a more sartorial nature. It began to be used as an accessory to cover one's head as a headband. Although the bandana fell out of style a bit as its use began to rise within gang culture, it has made a surprising return as an accessory to be worn around the neck, head, or rolled into a circular headband.
Find It Here
5. Bomber Jackets that Make a Statement

Whether your chapter is in the north, the south, the east, or the west, at some point during the year it's going to get cold. When that time comes around, it's time to dig deep into our closets and break out our best jackets. Although not everyone enjoys the cold—especially those brothers in the south—many of us can appreciate the versatility of getting to throw on that extra layer of clothing and how much bigger and well protected you feel in a nice, comfortable coat. As trends this year seem to be moving towards more graphically emphasized designs, the historic bomber jacket (named after the World War I & II military aviators that made it famous) has returned into sartorial circulation with jackets with such specific designs featuring graphics and patterns that they demand the wearer go either big or go bold.
Find it Here
4. Shearling Coats that Would Make Bane Jealous

"What the heck is Shearling?" you may be asking yourself. Well, simply put, Shearling is skin that has been recently sheared from a lamb or sheep with the wool left on it. It is also a primary component of one of the coolest looking coats you will ever see. Featured prominently—and perhaps made famous—in The Dark Knight Rises (and less so by the creation of Uggs) shearling coats are making a sizeable comeback as they embody a spirit of both adventure and ruggedness, as well as unique notoriety and fame. With a wool lining these jackets are beautiful, functional, and will keep you warm and comfortable these long winter months.
Find it Here
3. Rounded Sunglasses—Anything Else is for Squares

Whether you live in the beautiful sunshine state of Florida, or the mostly overcast state of Washington, regardless of your school's annual levels of solar rays, we can all appreciate the relaxed sense of cool that comes with wearing a hip pair of sunglasses. Practical to wear on a cloudy day or under clear skies sunglasses both cover the window to our souls as well as give off an air of distance and mystery. Whether your style is the traditional Ray-ban wayfarers or aviators, or further still the comfortable and practical wrap-around Oakleys, it may be time to consider something new by picking up a pair of rounded sunglasses. This year, rounded lenses are in, and although it may take a bit more confidence to pull this look off, sometimes it takes a bit of courage to stand out and be different.
Find it Here
2. All White Everything

For as old as time, white has been associated with cleanliness and purity. Maybe it's an image of pure white snow that evokes a sense of innocence and order within the accumulation of all colors, but whatever it is, white is in. Hearkening back to the days in which P Diddy (or is it Young Peezy now?) would regularly put on his infamous "White Parties" the wearing of all white in fashion has always had a connotation of class and style with a bit of aloofness, particularly when worn outside. Whether it's a formal banquet or a weekend social, for those who dare to wear all white confidently, the spoils of success await you. Just try to stay away from any drink but water, and keep a bleach pen handy. You'll be glad you did.
Find it Here
1. Taking it Back to Childhood with Youthful Prints

There's something specific to the millennial generation that grew up within the 90s, and that is a sense of prevailing irony. Perhaps perfectly exemplified by stores such as Urban Outfitters, in which nostalgia and conscious "silliness" reign supreme, our generation seems to be one that resists the trappings of traditional adulthood: We continue to travel, party, play video games, and watch cartoons well into post-college adulthood. With this spirit of youth culture kept strong, it should come as no surprise that this zeitgeist has infiltrated fashion. Whether it's a graphic tee of Adventure Time, or an Arthur balled fist sweater, youthful prints have invaded the fashion world with dress shirts and tees featuring colorful cartoons and patterns. Being a "grown-up" can come later; embrace your youth now.
Find it Here
If you've found any of these suggestions helpful, let us know, and if you've got your own style choices that trump this list, send us a pic!