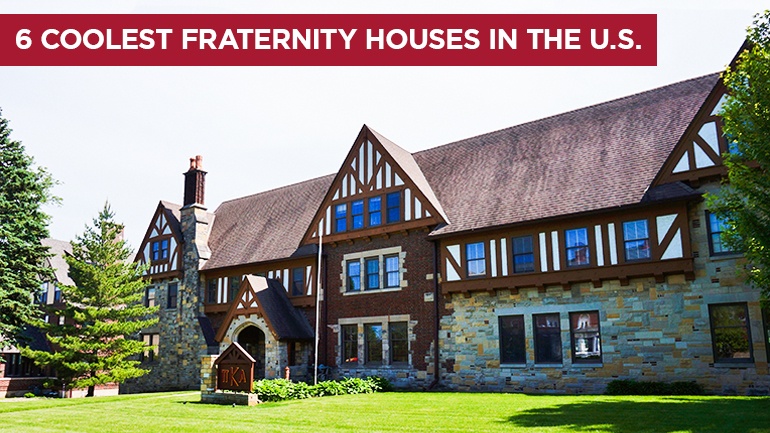 Here's a test: Define the word "cool" without using cool.
How do you quantify "cool?" How is it measured? Is it subjective? Inherently, yes, but regardless of whether the sense of "cool" is based on individual perception or not, the very fact that a multitude of individuals can agree that "yes, this thing is cool" suggests an intrinsic quality with a person, place or thing's coolness. There exists a certain aura or aesthetic within the state of being cool. This aesthetic isn't defined by time or culture, either. Something that was aesthetically cool in America in the 70s can be equally cool in Japan in the 2010's. In the immortal words of Michael Caine:
"[Coolness] can't be bought, bullied, reasoned, or negotiated with. [Coolness] just wants to watch the world burn."- Alfred Pennyworth, The Dark Knight (2008)
So what about fraternity houses? Are they cool? Sometimes. In a lot of ways, it depends on the fraternity, the brothers within that chapter, their reputation on campus, and frankly their imagination. As any fraternity member knows, a great house has power. But that power is only as strong as the brothers who wield it.
For your inspiration, OmegaFi is here to give you our shortlist of the 6 Coolest Fraternity Houses in the U.S.
6. Sigma Alpha Epsilon--Vanderbilt University

Starting off our list we have the brothers of the Nu chapter of Vanderbilt University in Nashville, Tennessee. In a structure that looks almost medieval, the fraternity house of Sigma Alpha Epsilon looks like a small castle without the moat (more on moats later). Composed of a solid white brick, the exterior of the building has a look that is both aged as well as modern to some extent. Combining this strange fraternity house's anachronistic elements, along with its modern stylings, the resulting hybrid is somehow both imposing and protective. Needless to say, it's equipped and ready to weather the effects of the hardest parties for centuries to come.
5. Theta Chi--San Diego State University
Next on the list are the brothers of the Gamma Theta Chapter of Theta Chi, of San Diego State University in—you guessed it!—San Diego, California. Given that these young brothers are in the Southwest, a little bit of cultural flair is to be expected. However, the brothers of Gamma Theta have clearly outdone themselves. In a fraternity house that evokes thoughts of a Spanish-style mansion, the San Diego frat house has a dual staircase at its entrance as well as three balconies. Centered just above the entrance of the first flood are the emblazoned Theta Chi Greek letters for all to see. With Spanish-style shingles and a latticed rooftop, the house is not only big, but like the spices that embody southwest cuisine, it's bold too.
4. Sigma Chi--Clarkson University
Although this entry is certainly not the prettiest, it is nonetheless the most interesting in its design. The brothers of the Iota Zeta Chapter of Sigma Chi, of Clarkson University in Potsdam, New York, have a fraternity house that is…colorful to say the least. Not everything cool is beautiful, and not everything beautiful is cool. Sometimes it's the courage of the strange that elicits the most respect, and therefore enters the realm of cool. In a house that is four stories tall, blue, green, yellow and indigo — with a red trim — the fraternity house of Sigma Chi, Clarkson University is more than just a place to sleep for fraternity brothers. It's a statement.
3. Phi Sigma Kappa--USC

Following the strange coolness of Sigma Chi at Clarkson, we have a modern chic from the brothers of Phi Sigma Kappa's Omega Deuteron Chapter, of the University of Southern California in Los Angeles, California. When we say this house is modern, we're not kidding. From the exterior alone, this fraternity house is reminiscent of a nightclub. From the spotlights laminating giant Phi Sigma Kappa letters on the wall, to the neon Phi Sigma Kappa Greek letters on the other wall, sandwiching the glass doored entrance, it's clear that this is a house that is strictly invitation only. Sporting a huge courtyard complete with a full-sized basketball court, the Phi Sigma Kappa house looks less like a fraternity house and more like the headquarters of the next big internet start-up.
2. Delta Upsilon--Penn State
Entering our list through its sheer abstract, European-esque essence, the brothers of Delta Upsilon of Penn State University live in a house out of a fairy tale. In a fraternity house that would seem more at home in a small-town in Belgium, the Delta Upsilon house at Penn-State has the classics aesthetics of a 16tht century hunting lodge. From the arched door at the house's entrance to the perfectly conical pines surrounding the house's structure, this a house that defies time in the best ways possible.
1. Kappa Sigma (Gamma Tau)--University of Colorado

Capping off our list with the brothers of the Gamma Tau chapter of Kappa Sigma, of the University of Colorado in Boulder, this fraternity house is simply the closet thing you're going to see to a real-life Hogwarts in America. In a brick constructed house that looks as old as any 17th century English cottage, the Kappa Sigma fraternity house of the University of Colorado is covered in vines, giving it a classic Old-European look. However, don't let the old aesthetic fool you — this house is modern. Combing elements of high technology like solar panels to its exterior, a basketball hoop, volleyball courts, and pool tables, it counterbalances these modern amenities with the coolest old-world element a house can have…a moat. Enough said, first prize.
If you've got a fraternity house that you think competes with this level of competition, send us a picture and tell us why you think it's cool enough to make this list. We might just put it on another list.