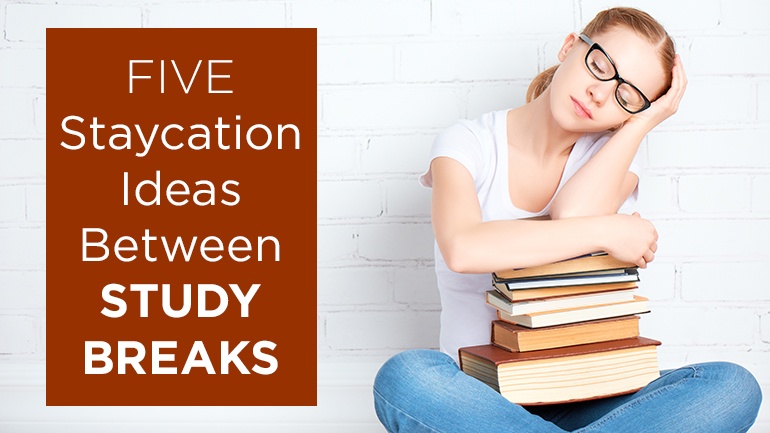 So you're taking summer classes, eh? Well, good for you! However, we know deep down you are kicking yourself a little and maybe asking yourself, "Whyyyyyy?!" Your studious nature is to be appreciated and should be revered by your peers. We know how hard it is to be sitting in class and open your Snapchat to see your crew chillin' poolside, basking in the sunlight as you bask under the harsh tones of the florescent lecture hall lights. Regardless of your unrelenting work ethic, everyone needs a break, and OmegaFi is here to help you get a little R&R with 5 Staycation Ideas Between Study Breaks.

Water Fun
A good ol' fashioned pool day never hurt anyone (just don't forget your SPF). The only task may be finding a pool to lie by. In the event your university, dorm or apartment doesn't offer a pool as part of their amenities, check into local community pools. Most have some sort of cover charge (usually $5-$10) that allows you to crash and splash for the day. Pack a lunch and cooler, cue up that killer playlist you have been working on and drift away into total relaxation. If you are thinking this pool day may be a good time to catch up on course work reading, you are WRONG! Take the day and treat yourself to some sweet sunrays, soak up that vitamin D, and enjoy a poolside catnap.
If a pool day is too "been there, done that" for you, consider a lake or river nearby. Where there is a river or lake you will find rafting companies. Relax on the open water with a little "me time" and rent a kayak or canoe and paddle to complete solitude or round up the troops and organize a group tube/float trip. Many rafting companies offer half- and full-day excursions starting at $30 per person. Link up to your besties on a large inner tube and let the current take you away.
If/when you have exhausted all your water fun options, don't underestimate the fun of a throwback Slip 'N Slide in the back yard or a nice skip through the sprinklers can offer. Don't worry about what the neighbors will think. If you catch them peeking through their blinds, invite them over. Water fun for all!

Off The Grid
Need a serious time out from the stresses of summer classes? Then consider totally unplugging and hitting up your nearest state/national park or fave hiking spot. Pack the necessities, plenty of water, and rations for a fun explorer staycation! Enjoy the great outdoors, explore and meditate the schoolwork course load away. Try your hand at Geocaching, set up camp and spend a couple of nights becoming one with Mother Nature.
Completely unplug from the outside world. Only use your phone when there is an Instagram worthy photo that needs to be taken. Then shove your phone back in your backpack and forge on to the next picture perfect look out spot.

Explore Your Surroundings
You may typically avoid the touristy spots in your city, but the perfect staycation calls for you to act like a tourist! Visit your local visitors bureau and research the fun and interesting hot spots for visitors. Make sure to include all the cheesy tourist spots and take pictures along the way. Jump on a segway and explore your town through tourist's eyes. Make a point to call resort hotels in your town. Some resorts offer day passes for a daily charge (starting around $25) that allows you to use the resort amenities such as the pool, hot tub, and sauna and even dine at the resort restaurants. You can feel like a visitor in your own town for a bargain price!
Tour a local factory, catch a show at the community theater, make a stop by the local art/history museum and if your city offers it, indulge in a minor league sporting event. Visit the local and old school eateries. Every town has at least one spot that has been around for decades and is a local's favorite place to grab a bite to eat.
Make a habit of getting out and enjoying local events and happenings and make a note of dates for local festivals, concert series and farmers markets.

Keep It Simple
Sometimes there is nothing better than drawing the blinds and participating in a good Netflix binge. Get all your favorite foods and prepare for a full on lock in and blow through that watch list you have neglected due to the fact you have had your nose buried in a book all summer. There is no shame in cranking down the AC to a crisp 68 degrees and slipping on your adult onesie and hitting play on full season of OITNB.
You may be a mature college student successfully on their way to a lifetime of adulting, but no one is above a well-constructed pillow fort…NO ONE! Don't be shy or ashamed to pull the comforters off your roomies bed, yank the cushions off the couches and turn the living room into a fort complete with a sign that asks for the "secret password". Totally unplug from all electronics and retreat to your new lair bringing your favorite book or stack of gossip mags you are behind on, handful of questionable snacks and lunch box cooler with the beverage of your choice.
If lounging around isn't necessarily your cup of tea, then make a day of Embark on scavenger hunt style gaming quest. Hit up the bowling alley, miniature golf course, laser tag and local arcade for a perfect day of acting like a kid again. If you are holding those purse strings tightly, consider having a few friends over for a potluck game night. Instruct everyone to bring a game and a dish to share. That way every is fed for the night and has a good time on a dime.
Top it all off with a giant ice cream sundae!

Get Pampered
Take a day to get your body and mind right. Start the day off with a yoga or Pilates class at your local health club. Hit up the spa for your favorite treatment. Most spas offer first-time visitor discounts for various services. Franchised massage spas will offer hefty discounts for first-time clients. It never hurts to call and ask what their specials are for newcomers. If you make your way into the spa, make a day of it. Spas offer quiet rooms with herbal teas and whirlpools, which are free to those using their services.
If heading to the spa is out of the question, create one at home. Turn your room into an aromatherapy spa using essential oils, your favorite candles and scents. Prepare yourself a pitcher of refreshing spa water with fresh citrus, herbs and/or cucumbers to sip on during your day of pampering. Set the mood with a spa playlist available on Spotify or Pandora. To ensure you don't lift a finger all day, order in your favorite meal.
When a vacation is out of reach, we hope you can find some rest and relaxation with these staycation ideas. It's a cruel, cruel summer out there for those of you working on that degree. Make sure to take some time for yourself to allow you to power through the summer semester and gear up to tackle the beast that is fall semester. Stay cool and most importantly, stay calm. If you have any ideas for cool, fun and awesome staycation ideas, put them in the comments below!