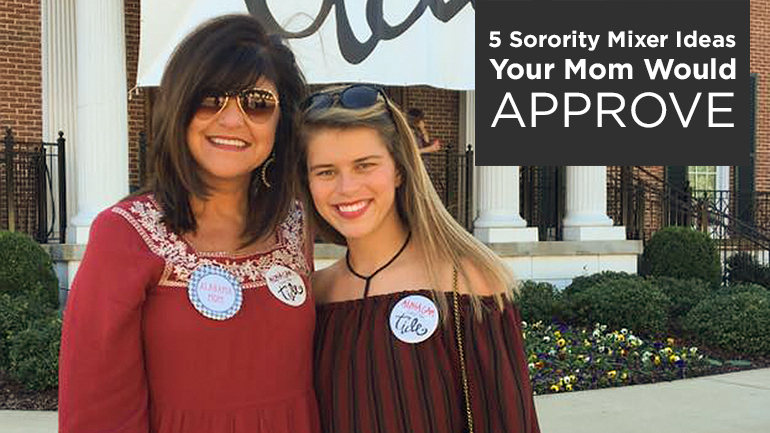 One of my favorite parts about being in a sorority were the mixers. I mean, who doesn't love being creative with costumes and crafting decorations?! You get to meet so many new people and network with others whom you may have never approached on a regular day. However, sometimes, these themed events have the potential to get a bit inappropriate with their themes and outfits, or lack thereof.
Here are some classier mixer ideas to use for your next social that won't make your parents cringe as they scroll through your Facebook picture posts:

Bows, Pearls and Sorority Girls – Time to take out that super adorbs Lilly dress and your best set of pearls and pair it with the Jack Rogers I know you have in your closet. Do not forget your clip-in hair bow because everything looks better with a bow on it! Now show off your awesome cooking and baking skills by bringing your signature dish. The lighter the dish and less messy the better! (Don't be embarrassed if you must call mom for help.) Play a couple games of shuffle board or croquet and sip on some mint juleps if such is permitted at your event. This is very similar to a Kentucky Derby theme. Check out this awesome dilly cucumber recipe!

Sock Hop – We all love those decade themed parties. I mean, who doesn't like to pretend and play dress up? Well, now you can be the character from Grease you loved most! Will you be Frenchy with pink hair? Sweet Sandy with that cute poodle skirt or bad Sandy with leather pants and jacket? Either way, you really can't go wrong! It would be super cute to set up a little photo booth area with some props to capture these great memories. Get your diner and juke box decorations out and SPIN THAT RECORD! Below are some options for printable decorations.

Celebrity Couples – I'm sure we've all wanted to be rich and famous at least once in our lives. Well, here's your chance! Grab a date and dress up as your favorite celebrity couple. Roll out the red carpet and work that camera, girl! You can chose from Chris Hemsworth and Elsa Pataky, Vanessa Hudgens and Austin Butler, Ian Somerholder and Nikki Reed or one of my personal favorites Candice and Joe King! Get glammed up, pop the bubbly and hand out some awards just as if you were at the Oscar's. Again, a cute photo taking session is a must! Check out this cute decoration idea!

BBQ – This is the easy 'come as you are' mixer that doesn't require too much effort. Do this picnic style with some red-checkered blankets and/or tablecloths. Get some cute wooden picnic baskets and of course don't forget to sign up a few fellas to do the grilling! Corn-hole , Kan-Jam and just some good ol' football tossing are some sure ways to get the interactions flowing. You can even spice things up by having grill-offs or corn-hole competitions and give away small prizes. It's an easy way to socialize with some great back yard fun. Be sure to not get a barbeque stain on your white t-shirt!

Speed Dating – This is another easy one that doesn't require too much pre-planning as far as snacks and decorations are concerned. Simply pair up with a member of the fraternity you're mixing with and chat for a couple minutes and someone will ring a bell and the brother will rotate out and move on to the next sister. It's a great way to get to know each other and who knows, you may just find you a new friend! Once everyone has rotated through, then everyone can just mix and mingle. We actually did this while I was a new member but we did it with our own chapter to get to meet all the girls and chat for a little. That's another great idea for those larger chapters where it's near impossible to even know the names of all your sisters or brothers.
These are just a few of my favorite themed mixer ideas. You can certainly add to or take away to better accommodate your chapter. Remember to take lots of pictures and add them to your chapter's website to prove that you're not like a regular chapter. You're a cool chapter. (Mean Girls reference, hope you got that.) I hope you have fun. Now, get to planning!
Got some fun, mom-approved, mixer ideas of your own? Share them in the comments below!