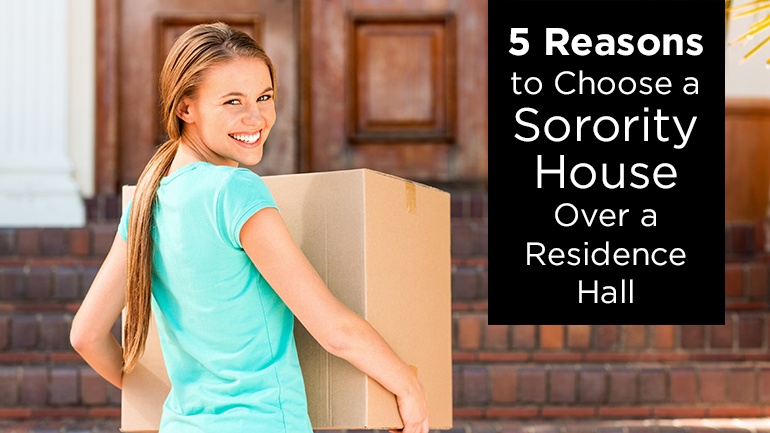 Whether it's their freshman or senior year, when students make the decision to enter Greek Life, they are also making a decision on how they will live the Greek experience. Will they simply pay the application fee and initial dues before fading into obscurity? Will they enter a sorority feeling a sense of true sisterhood, but hold steady to their previous social circles and organizational obligations? Or will they fling themselves into the maw of Greek life head-first, working to plan every event, to attend every party and to become closer to their new sisters than their own blood?
All of these roads are available to the newly initiated sorority sister, and to a degree they all begin from the same choice:
Will she live in a residence hall or a sorority house?
Although each choice has its pros and cons, the benefits of living in a sorority house far outweigh the potential downsides, and we here at OmegaFi are here to break down the 5 Reasons to Choose a Sorority House Over a Residence Hall.
5. Intrinsic Network (Closeness to like-minded people)
The primary reason anyone decides to go Greek is the desire for a bond with like-minded individuals, as well as a network that shares these similar bonds — regardless of alma mater. With that said, the strengthening of those bonds is incredibly important. It's said that the best way to develop a relationship with someone is simply to put in time: to share experiences, make memories, and get to know someone on a level deeper than their majors, likes and dislikes. It's why many of us have so many "friends" in high school but lose touch after we graduate. We built relationships based on proximity (sharing the same classes) without even knowing it, and these friends sadly become all too unfamiliar once that connection is severed. Fortunately, the best way to lengthen the amount of time we spend with others and build strong bonds is to live with them.
4. Food and Comfort

When it comes to going to college and living away from home, food and comfort are typically the highest priorities for the average undergrad student. One of the biggest benefits of living in a sorority house in comparison to that of a typical residence hall is that food and general comfort are included on top of semester dues. Many sorority houses are large in size and able to accommodate a large array of young women. Although individual space may be synonymous with a nice residence hall, the value of living in a conjoined house of sisters, coupled with a house mom, dining cafeteria and live-in perks — like weekly cleanings — cannot be understated.
3. Building Social Skills and Relationships

One of the best lessons of college, whether a student is Greek or not, is simply the building of adequate social skills. Social skills are key drivers in success and career development after college, and fundamentally make for a happier and more connected life. A sorority house offers a constant opportunity for connection and socialization. On a day-to-day level, residents are given a chance to get to know their many sisters, whether through group activity or casual conversation. Through proximity alone, a sorority house allows one to invest time in getting to know sisters on a level that would be impossible in a traditional residence hall. And learning to be a little friendlier and more accepting of other people is never a bad lesson to learn.
2. Separation from Campus Life

Although campus life can be both fun and engaging, it can also serve as a distraction from studies and goals. Nowadays, many campuses are outfitted with numerous amenities — think bowling alleys, movie theaters, and game centers. Although these sources of entertainment are meant to give students a break from their academics, when coupled with parties, clubs, and bars, they create a constant source of stimulation and distraction, as there always seems to be something going on across campus. True to life, sometimes students just need a break, and due to the typical distance of the Greek houses from the center of campus, living in a sorority house can provide just the right amount of distance from the action for them to settle in and get some work done.
1. The Height of Involvement (The Full Sorority Experience)

Arriving on campus for the first time can be overwhelming. New students — particularly freshmen — are not only experiencing what it's like to be truly on their own for the first time, but also to do so in an area surrounded by similarly smart, ambitious and focused students. Although it can be easy to make a few friends, go out every now and then, and still generally keep to oneself throughout college, doing so would be missing out on one of the best experiences that undergraduate life has to offer: being Greek and living in a sorority house. There, all the confusion of navigating the physical campus, experiencing campus life, and learning what it means to be an involved student are worked out together with new sisters.
Though some students may choose to get involved in clubs and organizations they are passionate about, few opportunities for involvement come close to the widespread and overarching involvement that comes with living with fellow members of a Greek organization. As a new initiate living in a sorority house, the meaning and context of social gatherings will change exponentially with tens to hundreds of new sisters around, offering wisdom, comaraderie and support. The student now has a team of smiling sisters sitting front and center in her life.