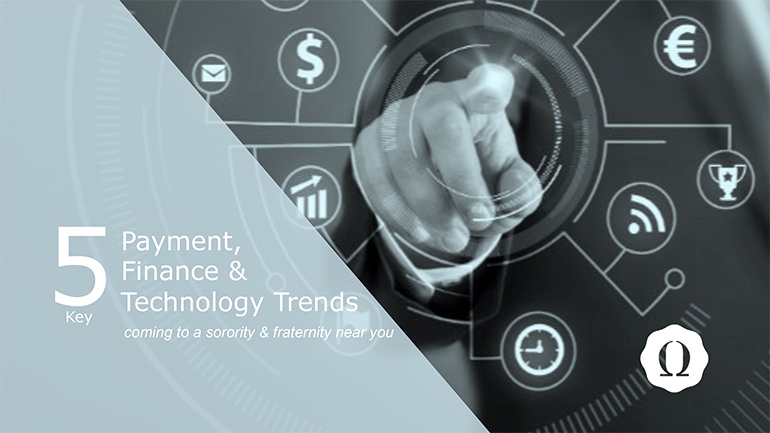 Fraternities and sororities, like the broader world economy, will experience significant change as a result of emerging trends and new developments in the payments, finance and technology industries.
OmegaFi CEO, Fred Maglione, and Director of Partner Success, Addison Schopp, outlined five key trends at the recent Fraternity Executive Association annual meeting. The full presentation and handouts are available for download. The five trends discussed were:
35 software companies working with fraternal organizations have gone out of business during the last ten years, and there is a wave of software company acquisitions taking place by well-known players (Google, Apple, Facebook) as well as lesser known companies (CommunityBrands, BlueStar Sports, Blackbaud).
Changing Payment Preferences. Consumers are writing fewer checks and spending with more expensive credit cards. Nearly half of all consumers have a non-bank account like Venmo or PayPal, and while these non-bank accounts are great for peer-to-peer payments, they can create risk management challenges for fraternities and sororities.
While security breaches continue to occur, consumers are less concerned about security or protecting their identity.
The cost and complexity of complying with PCI, state sales tax obligations and the new GDPR law in the European Union continues to rise. Only sophisticated, well-capitalized software companies can help fraternities and sororities meet their compliance obligations.
Cost of Membership. Looking at OmegaFi data over the last ten years, membership has increased by 43% while chapter budgets have increased 63%. The cost per member has increased in line with inflation, by 17%, and is now $3,305.
More detailed information is available in our 2018 FEA presentation found here: