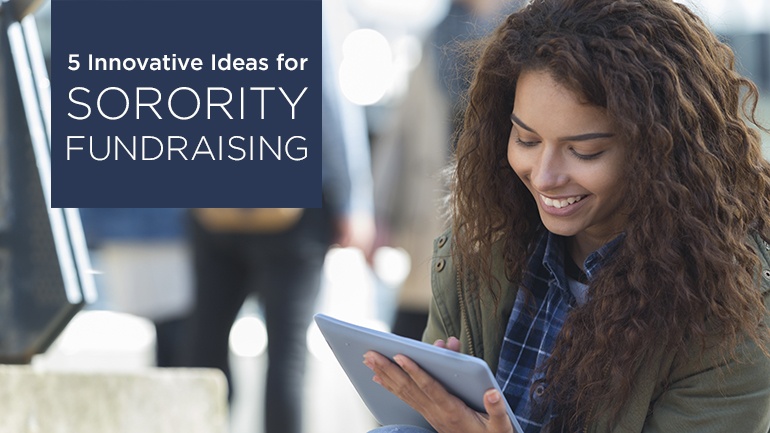 So the funds are getting low, huh?
For any student organization (particularly Greek organizations), the lifeblood of general operations is having ample funds; this fact affects no other organization more than sororities.
Although the budget can be tight for some sorority chapters, generally the easiest method to recoup whatever losses the chapter experiences is simply to collect dues. Although dues collection for sororities (particularly Pan-Hellenic) has more or less been broken down into a science, there are times when a chapter may experience a particularly budget-tightening crisis.
These instances may be as common as simply seeing less than expected membership numbers in a given semester, therefore decreasing your total projected budget. Perhaps an event went over budget, or a costly repair or addition needs to be completed on the sorority house. In truth, issues of budget don't need to be a crisis at all. They can be a new philanthropic initiative or charity drive; the only common denominator is the need of additional funds. With that said, fundraising can be a difficult task. It takes creativity to inspire, and even more creativity to inspire others to give.
For your inspiration, OmegaFi is here to give you 5 innovative ideas for sorority fundraising in order to help spark those brain juices and keep the green rolling in:
5. Make a Fashion Statement (Create a Line of Apparel)
4. Empower Your Fellow Women With an Event
3. Host an Alumnae Brunch or Dinner
2. Sit Down and Eat With Strangers
Let dive into our first fundraising idea!
5. Make a Fashion Statement (Create a Line of Apparel)

In every sorority in the country right now, we all know that one sister who is particularly into fashion. Maybe she's studying fashion merchandising or graphic design and has her own unique sense of style, but she's the go-to person when you think of well-dressed.
Do you have her in your head? Good. You'll need her later.
A potentially fun idea for fundraising is simply making cost-effective shirts and selling them. To do this, partner with your local Greek shop and let them know that you'd like to start a fundraiser. Create a cool and relevant design for your campus and sisters and offer the Greek shop the opportunity to place their logo on the T-shirt design for a reduction in manufacturing costs.
To be cost effective, get a sample made of the shirt for a handful of your sorority sisters, set a price, and begin to take orders from your chapter and campus at large. You can take orders at events or just by walking around campus in your apparel. Just remember that taking you'll need to be extra organized when taking orders. You don't want students receiving the wrong color or size!
To help you out, check out this t-shirt order form template that includes tips to help you order your apparel in bulk.
Finally, reach out to partner fraternities for support, and once shirt orders have been completed, have the Greek shop print them out. Depending on your margins, this can be an excellent (and fun) way to generate a little extra revenue while simultaneously spreading your brand.
4. Empower Your Fellow Women with an Event
There is no greater feeling than empowering other women (and this goes for men, too). So why not use an event designed to make your fellow women feel more confident and capable while also raising money for a good cause?
Create an opportunity for women within Greek life and campus as a whole to learn a new skill or perspective, and either charge an entry fee, or better yet, simply ask for donations. An empowering event can be anything from a feminist author coming to speak on women's issues (who can presumably be found in the English department), hosting a kick-boxing event to teach women self-defense skills, or a female business owner coming in to teach crucial skills in the area of business and management (be sure to reach out to alumnae).
The sky is the limit for an event that can have a tangible effect on not only your sisters but women across campus as a whole.
3. Host an Alumnae Brunch or Dinner

In the general hustle and bustle of life in a sorority, where the constant influx of new sisters every semester can at times leave even the most involved sister a little disoriented, it's important to develop relationships with the sisters who've come before you. This is also a great opportunity to reach out and create a broader sisterhood for your chapter and sorority at large.
Plan a massive brunch or dinner to help thank those that have come before you and raise a little extra money. To help plan the event you can set up a crowdfunding page. Just be sure to include the link within a mass email to your chapter's alunmae network.
Having a brunch or dinner and raising money for the event via crowdfunding is a win-win situation because your older sister can see all the details of the fundraiser (including its purpose and how their donations will be used). Plus, attending the event gives them the opportunity to support their sorority, reconnect with old sisters and meet new sisters.
When dealing with alumnae, we'd advise implementing these types of ideas as close to homecoming as possible, or any other large scale chapter events that typically bring older sisters back home.
2. Sit down and Eat with Strangers

As we've mentioned before, throwing a fundraising event at a restaurant can be pretty fun. No matter where your campus might fall, when it comes to college towns or even just areas around universities, local restaurants have an innate understanding of the value of a dollar and just how important that college demographic can be.
With that in mind, many restaurants are almost always willing to offer some form of give-back program in which a percentage of sales generated will be given back to organizers. For a sorority, this can be particularly lucrative. Even a small sorority chapter can have tens to hundreds of active and inactive members.
The key to making these events successful, however, is to plan ahead and have fun. Create a theme for the restaurant you choose and live by it. Design the night to be enjoyable regardless of the amount of money collected, and you'll be surprised how many people you might inspire to support you.
1. Make it F.U.N.

In the immortal words of Spongebob Squarepants, "F is for friends who do stuff together, U is for You and Me, N is Anywhere and Anytime at all…" We'll let you finish the rest, because let's be serious, we know you know it.
The true benefit of a fundraising event is that you can be as creative as you want to be as long as some good or service is provided in exchange for money. This means you can have as much fun with it as you want to. For whatever it is you feel would be fun for you, your sorority, and the campus at large, create an event for it.
This could be a dodgeball contest with a cost per entry. You can team up with a partner fraternity and expand it out to the council as a whole. You can host a campus-wide water-balloon fight, allow people to bring their own water balloons (this will encourage participation) and charge 5 dollars for ten water balloons—believe us they'll go quick. The key to creating any successful event is adding value to those who participate in it. This is college we're talking about, so try to have as much as fun as you can. The added bonus is that your fun will be for a good cause.
If you've got any better ideas for our 5 Innovative Ideas for Sorority Fundraising article or just want to share a quick story of your own successful event, let us know in the comments below.