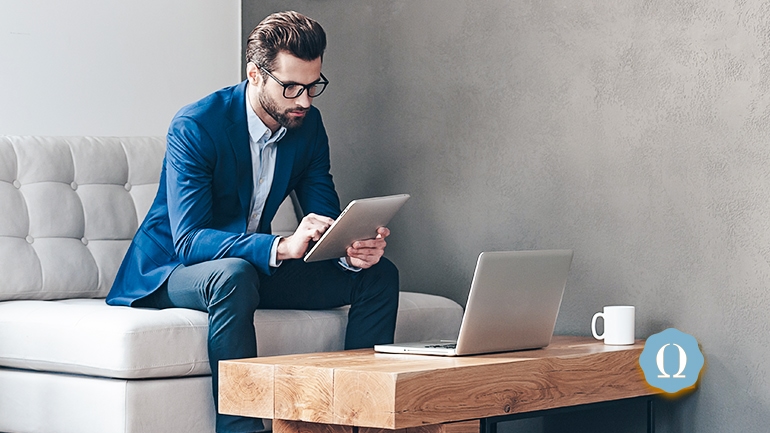 Fraternity software is the name of the game for chapter officers across the land.
Unless you're living off the land and wearing a flannel shirt a la Nick Offerman, your chapter will need to learn how to use software effectively.
It's important to note that software doesn't replace the efforts of brothers.
But—and it's a big but—
Software makes fraternity life infinitely easier.
The reason for this is simple. The right software tool, at the right time, will optimize and streamline your goals and tasks. All the hard work you put in will have double the impact, because you'll have saved time and effort and concentrated on what really matters.
Software can handle the menial, repetitive tasks like compiling data, sharing files and information, quick communications, and more.
When you're a chapter officer, time is a commodity. Time is, as they say, of the essence. Your take-home midterm exam is due in one hour. Every extra minute means you can be a more effective leader for your brothers and a better student.
OmegaFi sees firsthand how software tools can help fraternity men reach their goals in a quicker, more organized and efficient way.
Let's take a deeper look at 5 Fraternity Software Tools for Chapter Officers.
5. Facebook for Fraternities—Communication the Free Way
Facebook won't replace real-life meetings, collaboration, and get-togethers for brothers, alumni, and others.
Nor should it replace heavy-duty fraternity communication software (more on this below).
However, there are real benefits for fraternities who use Facebook—that is, when it's used correctly.
Social media is a great promotional tool.
While it's not optimized for hardcore internal chapter communication, it's a free, instant platform to let people on campus know what you're up to and build a following.
Have a big fundraiser or philanthropy project coming up and looking for sponsors and donors? Throwing a big social event? Getting amped up for rush week?
Social media lets you get information out there at the click of a button, without the cost of printing hundreds of flyers and the time spent handing them out.
Facebook is great for:
Fostering engagement for chapter events and initiatives
Sharing photos, information, brother and chapter accomplishments, etc.
Promoting the chapter in general
Getting information quickly to a specific Facebook group (e.g., participants of a 5k)
Accenting your alumni engagement
Other social media tools like Instagram, Twitter, and Pinterest, have different uses you can explore.
Social platforms are a great supplement, but they can never cover all a chapter's communication needs.
4. Communication Software Tools for Chapter Officers on the Go
Let's be honest. Chapter officers never stop.
They're constantly moving from one task to the next. On top of that, they're usually running all over campus to get from one class to the next and one meeting to the next.
For many brothers, it's the same.
A lot happens between weekly chapter meetings, and getting information to all members at the same time can be a major roadblock to completing your goals.
How do brothers know when and where they're supposed to be for chapter events?
What about that intramural soccer schedule? Or study hours?
How likely are they to forget most or all this information?
Many chapters invest in communication software to make coordinating as a chapter officer way easier than it otherwise would be.
Take OmegaFi's OmegaOne. This software lets your chapter:
Share the same information to all brothers quickly
Share files, images, location information, etc.
Maintain a universal chapter calendar
Send reminders, quick surveys, questions, etc.
Manage study hours and locations and verify check-ins
Whatever your position within the chapter, almost every officer can benefit from being able to reach brothers using communication software.
3. Google Drive: Why Data Storage Matters to Chapters

Fraternity chapters keep a lot of records.
You've got manuals, new member guides, promotional flyers, newsletters, reports, budgets, among other important images, files, and so forth.
Say you've got an image of your chapter crest or letters that you want to locate easily and insert into an alumni newsletter header.
What if your president's hard drive, with the important chapter progress report he's working on, corrupts?
What if you need certain information about a specific ritual?
How about if you're celebrating and just need to play a "Piano Man" .mp3 this very instant?
Online cloud storage like Google Drive is free (or modestly priced if you need extra storage options).
That way all the important chapter documents and files are backed up in one central place, and officers can access them whenever and wherever they are.
2. Lots of Fraternity Software Tools? Bring Them Together
When you opt for free or low-cost software tools as a fraternity officer, often you have one for each different task.
That can be . . . a pain, to say the least.

Imagine you're planning an event.
You have one platform for storing and sharing files, one for disseminating emails, one for promoting the event on social media, one for the chapter blog, one for coordinating a calendar, etc.
Zapier lets you set up a workflow of tasks between different software platforms, so you can plan and execute chapter initiatives quickly and easily.
Bringing software tasks together can help bring the workflow between people together, too, and keep brothers consistently on the same page.
When it comes to chapter success, this is a must.
1. Budgeting Software for Chapters Big and Small
Sure, you could store your budget on an Excel sheet.
You could—if you wanted to make budgeting way harder than it should be.
Don't get us wrong, whatever works for your chapter and makes budgeting an easy transition from one treasurer to the next, whatever gets your numbers in balance, is a good thing.
But what if it could be easier?

Budgets are living things. They evolve and change frequently. And sometimes it's hard to keep track and make the right adjustments.
When your chapter invests in OmegaFi's Vault, you can manage your budget from a centralized hub, offer online payment for membership dues, track financial reporting, make banking transactions easy, and even use an officer purchasing card.
Premium budgeting software can do the heavy lifting any chapter, small or big, needs to have a smooth, transparent, efficient money management process.
What fraternity software tools would you add to our list? Let us know in the comments below!
OmegaFi offers chapter software solutions for budgeting, recruitment, communication, and more. Find out more by clicking here.