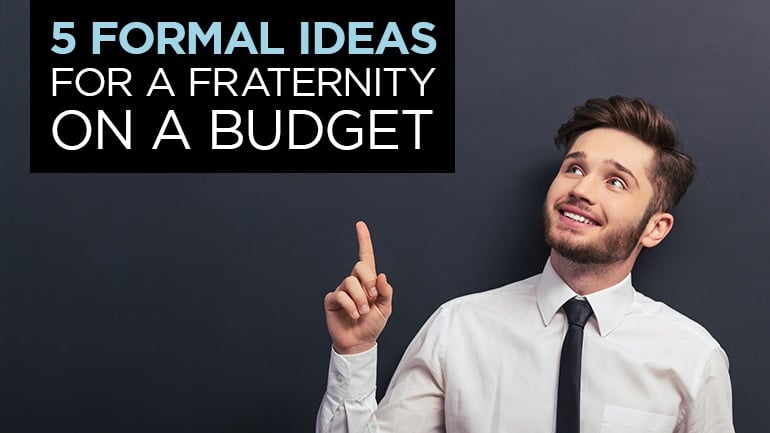 We'll put this to you blankly: Fraternity formals are expensive. Very expensive. Here's a quick overview in case you've been cryogenically frozen, unfrozen, and are just entering your freshmen year. A fraternity formal is simply a weekend getaway at a hotel or resort for a fraternity brother and a date of their choice. There are two formals per year, one in the winter (a winter formal) and one in the spring (a spring formal), and typically the latter is the crazier of the two. A common tradition for fraternity formals is for a brother's date to create a customized and painted cooler with a funny decoration on the side. These coolers will typically have the brother's fraternity and name on it somewhere, but bear in mind that these coolers generally stop after freshmen year (sorry, upper-classmen!). Needless to say these formals are an extravaganza, with every brother and guest ready to party from Friday night until Sunday morning. Did we mention formals are typically held in nice resorts and hotels? Did we also mention that each brother typically gets their own room? We mentioned this was an expensive twice a year type of event, right?
Good. Time to budget.
As fun as these events are, they're typically instances where brothers purposefully save throughout the year to attend. The celebration of the formal itself in this sense can be associated with the accomplishment of this goal. You saved all semester for formal so now it's time to ball out and let loose.
For others, however, being able to afford a fraternity formal is not only challenging but sometimes impossible unless certain accommodations are met to ease the financial burden required.
For your benefit, OmegaFi is here to give you a shortlist of 5 Formal Ideas for a Fraternity on a Budget. Here we go.
5. Keep it Local-ish (Look for a Vacation Rental in the Area)

What do we mean when we say local? We mean less than an hour drive, and no matter where you live, an hour in any direction can typically take you somewhere new. The benefit to this type of planning is ten-fold. For starters, by lessening the travel distance of the buses you will inevitably take, you'll save money on gas and the time of the driver. Boom! Your formal weekend per brother cost just got a little lower. The other side of this benefit coin is the fact that if it's less than an hour away, noble and self-sacrificing brothers who are willing to forgo the bus ride can drive to the venue. If your other brothers follow suit, the best case scenario can mean dramatically reducing the amount of necessary buses (since brothers won't be on them) and lessening the financial burden on brothers (or the treasury) significantly. Although we can hear some of you relenting, "But I want to ride with my date," trust us, if she's on the bus she's not going anywhere. In fact, she's literally coming to you. Though this may not be the norm when it comes to formals, it's an act of a gentleman and it gives you and your brothers ample opportunity to set up hotel accommodations for the weekend.
4. Get a Hotel on the Beach

For brothers lucky enough to be close to a coast (sorry, Missouri), the beach is always a great option for a formal. Its simplicity is key. The beach, in essence, is just a stretch of coastline. Yet there's something intrinsically appealing and beautiful about the vastness of an outstretched ocean. People travel far and wide just to get to the beach. They have their weddings on the beach. And entire towns are able to survive just on the drive people have to see the ocean. So what are we getting at here? Find a large vacation rental, hotel, or better yet an inn, on the beach. Taking your dates to a sleepy seaside town will make it feel like the weekend is yours while also immersing your guests to the culture of the town itself. Hit the beach in the morning and take your dates jet-skiing, take others charter fishing, check out local sites around town, and let the rest lie on the beach and tan until the formal dinner.
3. Declassify It (No Tuxes)

When it comes to formals there's a lot of emphasis on the—how do we say this—formal nature of the event. Dates are expected to bring nice dresses, and fraternity brothers are expected to pack a formal suit or two (sometimes even a tuxedo depending on the situation). Of course, aside from the outset cost of lodging, food, travel and the other accommodations of a formal, a brother having to buy or rent a suit can be a significant cost added to the total bill. To ease this final cost, change the theme of the formal to something less formal. Have a luau theme; Hawaiian shirts aren't that expensive, and they look great regardless of your body type. The key in this sense is to be creative and choose a more informal theme or setting so brothers aren't forced to fork over a few hundred bucks to rent or buy another formal suit.
2. Channel The Art of the Deal (Negotiate, Negotiate, Negotiate)

This should go without saying, but whatever hotel, resort, or lodging accommodations you make should be negotiated. This means that whatever their rates are, you bring with you a great deal of leverage depending on your intended party-size. Use this leverage to change the rates to match the financial station of your brothers. Obviously you can't change the per day charge from $100 dollars a room to $10, but you may be able to start at $60 and negotiate up from there. The more privately owned the hotel, resort or lodging accommodation is, the more power and control they have in altering their pricing. For this benefit, seek out privately owned resorts first, and then look towards more recognized chains if necessary in order to keep costs down. If you can take even a conservative 10% off the hotel accommodations this can be a sizeable difference for brothers who may have otherwise had a hard time paying.
1. Go Halfsies (Partner with a Sorority and Split the Cost)

So it's come to this. The planned formal is way over budget and brothers are on their last dollar. What do you do? Although this may be a big pill to swallow, it could be a useful solution: Partner with a female sorority, coordinate your dates from strictly that pool, and split the cost 50/50. The downside may be that you are limiting yourself to a single pool of dates. However, the benefits are numerous. For starters you're cutting your costs in half. Secondly, depending on the sorority there are typically more female members than male members in a fraternity's chapter, so your dating pool as grown significantly. Lastly, from a political stance this is a great opportunity to form a tight relationship with a sorority and meet a variety of the lovely women that make it up. Choose wisely because this is a sorority you'll be stuck with for the weekend, but this can be an excellent opportunity to form new relationships. Just be sure your date is actually single.
If you've got some tips on saving big on fraternity formals let us know in the comments below!