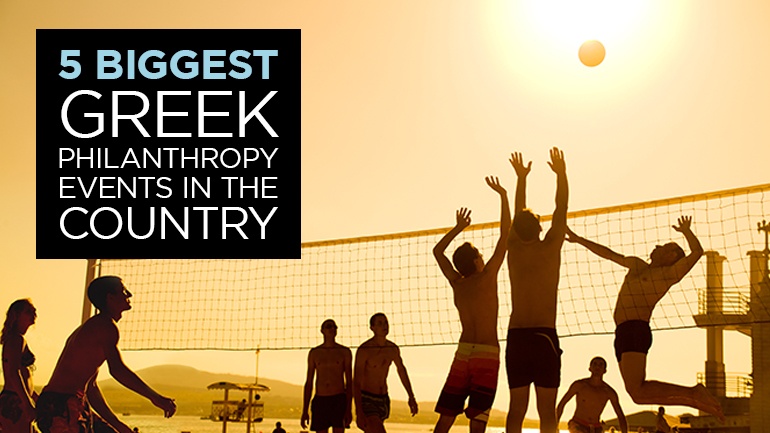 Your studies are the reason you're in school. You are seeking a degree to hopefully enter the workforce in your respective field and cobble out a living, hopefully not drown in student loan debt, and move on to bigger and better things. Of course you're also there in the direct pursuit of knowledge for knowledge's sake. You also joined a Greek organization, after finding the right fit of sisters or brothers and falling in with those whom you consider to be a makeshift family. These are people you'll never forget, making memories together. To many, the Greek side of college life seems to exist for young folks to let off steam from school and essentially to be an organized outlet to party.
However, even if you had that impression before joining, there's no way you still think that's the case if your organization is worth its weight in dues. There's way more to Greek life than the party, and possibly one of the most important contributions Greeks make is that of the philanthropy. That's right. Wearing togas and doing a choreographed dance routine for Greek Week isn't your chapter's gift to the world. It may have been pretty much the best damned rendition of Michael Jackson's "Smooth Criminal" ever witnessed, short of the King of Pop's own crew. Yet the money your chapter raises and donates to cancer research, to raising awareness and prevention of sexual assault, to helping the homeless in your surrounding communities, these are the lasting actions that are truest to the mission of Greek students. OmegaFi would like to get inspired with you and explore the 5 Biggest Greek Philanthropy Events in the Country.
Derby Days, Duh

We'd be remiss not to mention Derby Days, arguably one of the largest philanthropy events to speak of. During the days-long event, Sigma Chi chapters and various sororities raise money toward a $10 million goal for the Huntsman Cancer Foundation, with an annual goal around $1.5 million. There's a dance marathon, lip-sync battle, and other festivities connected to a fundraising arm for HCF. The money raised is a massively orchestrated success story of how the Greek community can impact cancer research on a national scale. The event is organized online and gives recognition to the schools who donate the most, in the spirit of competition and raising the bar for all schools to do their best. The Huntsman family has donated over $400 million to cancer research initiatives over the past decade, so the impact of this Greek Philanthropy event can't be understated. It's definitely one of the biggest out there.
Ahoy Mateys: It's Anchor Splash

Another multi-day, country-wide philanthropy of epic proportions is Delta Gamma's Anchor Splash. The Anchor Splash event organizes various fraternities so Delta Gamma chapters can teach them choreographed synchronized swimming routines, has them compete, as well as hosting some recreational races, all in the name of raising sweet, sweet cash for Service for Sight. The Gamma Mu chapter at Florida State University, for example, raised $50,000 over a four-year span of the event. Service for Sight is Delta Gamma's flagship philanthropy, which focuses on helping the blind and visually impaired, and reaches out to over 150 related organizations. Bringing together a fun gathering at the pool and the earnest hearts of Greek giving across the country, we definitely think this is one of the biggest out there, and well worth a mention.
The Big Brothers of Sig Ep

This one isn't the biggest money making event on the list, but sometimes money isn't everything. The brothers of Sigma Phi Epsilon have made a praiseworthy endeavor of getting involved with Big Brothers Big Sisters of America. For the past few years, Big Brothers Big Sisters and Sig Ep have teamed up in the name of service learning for young kids. The fraternity holds volleyball or bowling tournaments, among other events, to raise money for local chapters of the BBBS organization. Chapter members are also heavily involved in actually participating as mentors for kids in the program, and truly earn the title "big brother." Because Sig Ep is the largest fraternity nationally, they are able to maximize their impact in the name of a better tomorrow for these kids. Great job, guys!
Thank Goodness for Thetas: Why They Rock

CASA, or The National Court Appointed Special Advocate Association, is a vital organization that "supports and promotes court-appointed volunteer advocacy so every abused or neglected child in the United States can be safe, have a permanent home and the opportunity to thrive," according to their webpage. They do this primarily through having volunteers advocate for children during the difficult interactions with courts and social services, throughout the duration of a child's case. So it's particularly laudable that the sisters of Kappa Alpha Theta dedicate their philanthropic efforts to raising money for CASA. They do this through various means, such as 5ks, and fashion shows, as well as concerts like Rock the CASA held by the Duke University chapter. Notably, they've been at it for two and a half decades, and raised over a million bucks. So, yeah. They rock.
Breaking Records and Breaking Cancer
This is not a national event, per se, but has national implications: The Mizzou chapter of AEPi did something amazing when they raised a record-setting $132,000 for the American Cancer Society. Despite not reaching their outlandishly large goal of a cool $150,000, they still topped the previous largest single fraternity or sorority philanthropy record, which--wait for it--they already held. The ACS has been around since the early 1900s and is easily one of the most prominent national organizations dedicated to cancer research and treatment. These AEPi brothers showed precisely what's possible when a single chapter gets the gumption to show the nation what's up. They set a standard that's worthy of trying to emulate, even if dethroning their record may take a herculean effort--which incidentally is the precise type of effort needed to defeat cancer. If not one of the biggest events, this chapter certainly has one of the biggest hearts in the country.
There are likely countless more philanthropies worthy of mention. Do you have the scoop on some caring sisters or brothers (or both) who got snubbed from this list? Let us know in the comments, "Hey OmegaFi, I'm gonna let you finish, but I know one of the best Greek philanthropic events of all time!"