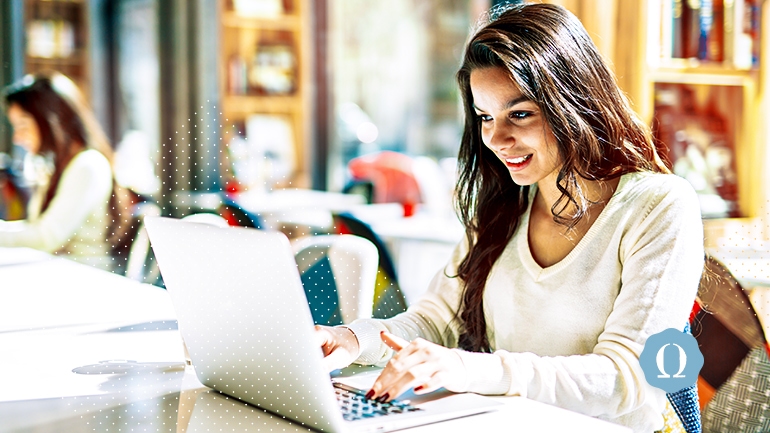 A perfect chapter website can be one of the most crucial sorority communication tools.
And if your website's terrible, unnavigable, hard to read, and freezing potential new members' computers?
Let's just say you aren't doing yourselves any favors. A chapter webpage that's poorly designed, unengaging, or difficult to navigate could actually be causing you more harm than good.
Luckily, most websites aren't as awful as they once were, back when anyone could put together a Backstreet Boys fan page (or whatever) with DIY web builders.
But these ancient monstrosities speak to what doesn't work in a sorority webpage: poor design, illegible text, slow for users. All this leads people to click away.
When used effectively in conjunction with other sorority communication tools, your website can improve recruitment, chapter promotion, and more.
Learning how to do it right is worth the time and effort.
In no particular order, let's look at our 5 Best Sorority Chapter Websites and why you should emulate them.
5. Chi Omega, Florida State University

Chi Omega Gamma chapter's website is a great example of what makes an effective page design.
Why? It's Simply Appealing.
Simplicity means it doesn't try to do too much too soon. There's a floating image of a sister's hands forming a Chi Omega symbol, with palm trees and beach in the background.
This image is straightforward, unbusy, and speaks to the laid-back nature of the page and of life in Tallahassee, Florida.
The user can plainly see her options at the top of the page, including officer info and a contact page, as well as some of the main reasons someone might visit the page—recruitment and philanthropy.
Scrolling beneath the image, you can read some basic info about Chi Omega to get a feel for their sorority's culture and values.
Simple. Straightforward. Perfect.
4. Delta Delta Delta, University of Alabama
The Delta Mu chapter of Tri Delta has a website that will hook PNMs, parents, and anyone else looking to learn more.
Why? They're All about Making Connections.
This page makes connections on multiple levels. Let's talk about some of the main/obvious ones:
It matches the design of the national Delta Delta Delta website. This allows both sites to offer a unified experience with sorority colors and symbols to PNMS, parents, alumnae, administrators, etc.
It offers an image slideshow that showcases the bonds sisters make in a way that looks fun, but also doesn't show behavior that goes against chapter values or is unsafe.

It offers links to info for parents and alumnae front and center. Having these links prominent in the middle of the top menu bar shows parents they're valued by the chapter, and putting alumni in the same area illustrates that the chapter values communication across generations of sisters.
There are multiple, easy ways to get in touch. There's a contact page for the chapter and the national organization, easy-to-spot links to social media accounts, and the chapter officers page offers emails and profile pictures for all officers.
Their chapter stays connected through OmegaOne communication software. Their webpage proudly displays a logo and link to OmegaOne, a premium all-in-one sorority communication software tool. If you're a new sister, current sister, or alumna who's connected via OmegaOne, you can connect to a shared chapter calendar; receive updates, messages, emails, texts, shared files, etc.; track and manage event attendance; and more.
3. Alpha Delta Pi, University of Washington
Alpha Delta Pi's Alpha Theta Chapter at the University of Washington has a webpage that really connects with students and campus life.
Why? They Want to Educate You
These sisters know that when it comes to modern sorority life, making the grade matters. A chapter's GPA can make or break you.
The first thing you see on their site is a woman wearing a backwards cap with the ADPi letters. We're behind her, viewing the beautiful UW campus from a sister's perspective. A flowering tree is before us.

It presents us with the concept of growth. Also, this chapter dedicates one of their most visible links to "scholarship." It leads to a page which discusses their high academic achievements and standards.
This shows parents and prospective members that being students comes first for these sisters, and academic success is built into their central identity.
They also offer a chat bot on their page, so visitors can easily educate themselves when they have questions or concerns about the chapter.
This website gets an A+ from us.
2. Alpha Gamma Delta, The Ohio State University

The Alpha Lambda chapter of Alpha Gamma Delta has a website that connects Greek and campus culture.
Why? They Want to Get the Most out of Recruitment.
One of the most important purposes of your website is to act as a place for PNMs and their parents to land to get more info about your chapter in a digestible way.
This website packages everything together. They take colors that match with the national sorority, and which happen to match with OSU school colors, and use them in a way that's prominent and eye-catching.
This Alpha Gamma Delta chapter offers photos and chapter news to let prospectives see how they're connected to the campus experience, and what they'll get with recruitment.
However, they also offer not just one, but multiple recruitment pages in their main menu, including info on the "new member experience" as well as a parents' FAQ.
Everything you need to know about recruitment is in one easy-to-find place.
They also use OmegaOne communication software, which connects directly with our sorority recruitment software, OmegaRecruit.
1. Alpha Xi Delta, Auburn University
The Zeta Xi chapter of Alpha Xi Delta takes many of the qualities that make these other chapter websites great tools and they add a flair that really draws you in.
Why? They Stay Classy—and Creative
The balancing act of making an attractive chapter website is that it has both class and creativity to put your chapter's stamp on it—without making it too busy and difficult to navigate.

Auburn's AXiD strikes this balance perfectly. They use some classy, formal cursive fonts, but the text is still easy to read. The layout gives you a scrolling photo gallery with pictures that are equal parts fun and artsy.
This leads to a letter from the chapter president, meant to forge that personal connection with each new visitor.
There are splashes of art, images, and unique design, without being overpowering.
The menu navigation is intuitive and fits naturally with the design.
That's why these are our all-around 5 Best Sorority Chapter Websites.
OmegaFi offers software solutions for sorority chapters for recruitment, budgeting, communication, and more. Learn more about our services or call direct at 800.276.6342.
Have a sorority chapter website you want to nominate? Link us in the comments below and give us your reasons why!