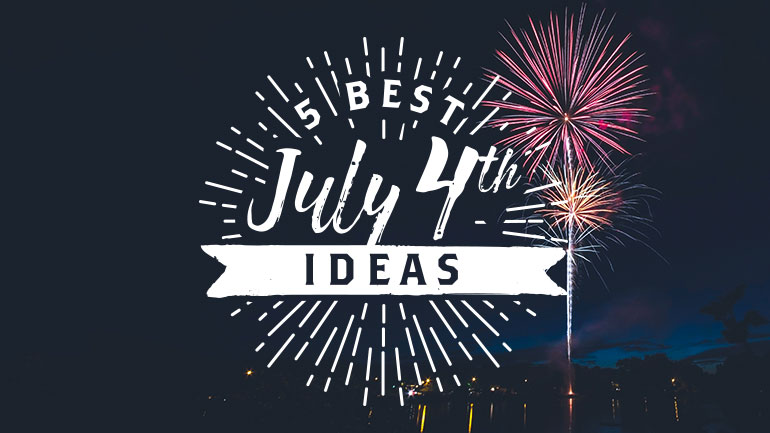 Can you even count on two hands the amount of times you've seen the movie Independence Day? Will Smith, Vivica Fox, Jeff Goldblum, Bill Pullman, Randy Quaid and their friends blow up some aliens and save planet Earth to celebrate our independence from interstellar oppression. So of course you were there opening night to see Independence Day: Resurgence, where more of said blowing up aliens takes place. Is there a more impressive pyrotechnic display than that? Probably not. However, that doesn't mean the only way to enjoy this fourth of July is to literally stave off a hostile invasion force of slimy tentacled monsters. There are some great spots to sit back and enjoy the show, or just enjoy some great company, regardless of your experience level defending humanity.
One of the biggest mistakes one can make is assuming you have to go with the crowd downtown to watch the designated fireworks show. Don't get us wrong, this can be a lot of fun, but also a lot of hassle. Remember that this is your fourth of July holiday as much as anyone else's, and you want to enhance it for you and those close to you as much as possible, to get the most enjoyment and relaxation out of it as you can. Thus, OmegaFi will do its best to represent the stars and stripes as we bring you our 5 Best July 4th Ideas.
5. The Backyard Affair

Classic. If a brother or sister has a house they're willing to offer up for the day, or you just want to use the chapter house, or if you'd rather spend the day at a family member's house and keep it low key, the backyard barbeque is an absolute staple for the fourth of July. You can string up lanterns for when it gets dark, pass around some miniature flags, lay out some checkered table cloths, fire up the grill, and viola. You're as American as apple pie. Wait, do people still eat apple pie? Some kind of pie. You might even bake one for dessert! Or how about some red, white and blue cupcakes you picked up from your local grocery store? After dinner, enjoy the sunset on the lake out back, or through the elm branches, or over the rooftops of the neighbors' houses, and reminisce on old times. The rest of the night is an adventure only you can decide.
4. Boom! Do It Yourself (CAREFULLY) Fireworks

This is always an option if you prefer to avoid the crowds of sticky-fingered kiddies, the cost of parking, long hikes through sardine packed streets as well as drunk drivers--there are always a few to watch out for--at your city's downtown display. Easier just to chill at home. There are, however, a few things to consider in preparation for shooting off bottle rockets, volcanoes, sparklers, or the legendary Excalibur. What is the Excalibur, you ask? Let's just say you should stand back after you light this one.
But before you light anything, here is a checklist of questions you should ask: If on campus, what are the university regulations on students operating fireworks? If off campus, what are the city regulations? Is there a drought, or other reason fireworks are illegal this time of year? Are there any trees or other kindling nearby that could start a fire? Is the person lighting the fireworks sober and able to do so safely? A few other things: DO NOT try to relight "dud" bottle rockets. Safely douse the bottle rocket with water after twenty minutes or so to make sure it doesn't accidentally explode and cause bodily harm. Even sparklers, which burn upwards of two thousand degrees Fahrenheit, can pose a risk if you are using them incorrectly. For more safety tips, check out this great list compiled by the National Council on Fireworks Safety. And of course, have fun! Boom!
3. Leave It to the Professionals

On the flip side, you may not want to bother tracking down a roadside fireworks tent and haggling with the vendor, signing waivers that you will only use these incendiary devices to "scare off birds from farms or fish hatcheries" (this is a real law in some places, like Florida; look it up). You may not want the responsibility of handling these dangerous devices, or maybe where you live just makes shooting off fireworks implausible. Most cities offer at least one display downtown, put on by professional pyrotechnicians. And the best part is that you can enjoy the food, beverages and music if the city hosts a live event prior to the big show. If not the city itself, maybe your university is hosting a display. Check city and university websites and social media to see what's what where you live, and see if taxi services are offering rides at discounted rates for the holiday to prevent drinking and driving. Sometimes this service may even be offered through your university. If you really can't figure it out, ask your brothers or sisters. They always seem to know the low down, don't they?
2. Lions, Tigers, and…Mortars? Oh, My

It may sound weird, but zoos often host holiday-related events for Christmas, Halloween, you name it. And yes, some do barbecue/fireworks shows. These events at the zoo, however, can be cost-prohibitive with the hefty ticket prices. Probably your city's show is cheaper, if not free to attend. But whether it's a zoo or somewhere else, going off the beaten path can pay off in terms of avoiding the biggest crowds and getting a more unique and memorable experience. If not a zoo, living in a coastal area may give you access to a beach where a display is being held over the water, or a lakefront display can be equally as beautiful. What about a theme park? Spend the day riding rides and the night watching the explosions as you kick back, washed in the colorful glow. It's a jungle out there, so hunting out a fourth of July event that suits you has its benefits.
1. Make It Yours

This is just good advice, regardless of what day it is. Still, it's worth keeping in mind this July 4th, too. No one's forcing you to go to pre-ordained events, have a barbeque, or take part in any other tradition. After all, on this day we must honor President Bill Pullman, who during humanity's resistance to alien annihilation famously said, "We will not go quietly into the night. We will not vanish without a fight! We will go on! Today, we celebrate our Independence Day!" Okay yeah, and to be fair there was this thing that happened in 1776 where the United States declared its independence as a nation.
The point is that independence is an American tradition worth fighting for. So if you want to start a tradition bowling with your sisters every year dressed in colonial garb, do it! If you want to spend each fourth fishing on the lake with your brothers before the sun comes up, smooth sailing to you. How about an Independence Day viewing party? And if you want to wear your lucky bald-eagle themed boxer shorts, hey, no one's stopping you. Be proud, be loud, and be yourself.
Regardless of what you do, the idea of this holiday is to celebrate what is unique and great about the United States of America, what it means to be American not only in the context of men sitting by lamplight with quills signing our founding documents, but what it means now. Many cultures and people are brought together by this idea that we can better ourselves and lend a hand to our neighbors, too. Kinship is the name of the game. Whatever you do, do it together.
What July 4th ideas are traditions for you? Which new ideas are you trying out this year? Let us know in the comments below. Otherwise, the space aliens win.