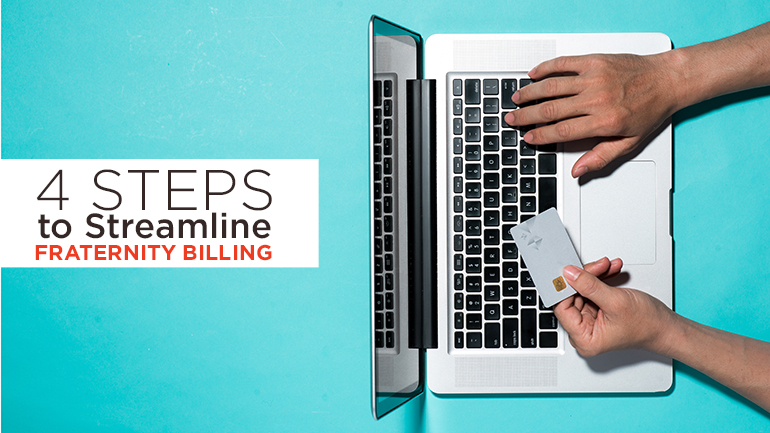 A common idiom in this world is that "money isn't everything." It's often used as a philosophical rebuttal to emphasize that material fulfillment isn't as important as a spiritual one. Although that idiom is wise and certainly true, unfortunately it's often said by those who have money themselves or, at the very least, have their basic needs met. In business, particularly in a capitalistic society such as the U.S., it is a sentiment that is out of step with the fundamental beliefs of our culture that "money makes the world go around." When it comes to managing a business, or in the case of university life, a fraternity, funds are incredibly important to the continued operations of the organization.
Although usually these funds are derived through the collection of dues, these are still social organizations at their heart, and further still are composed of typically low-income (or no-income) college students. Money can be tight, so enforcing the proper collection of these dues is not only integral to the organization's life but also one of the most difficult processes to properly execute. However, here's another idiom to take to the bank: "When the going gets tough, the tough get going."
For your inspiration, OmegaFi offers 4 Steps to Streamline Fraternity Billing in your chapter, and help you grease the wheel to keep things rolling smoothly.
4. Make it Easy
We cannot stress this rule strongly enough. From the perch of the fraternity president (internal link) or the treasurer position, it's easy to imagine the maturity and professionalism you practice in executing your responsibilities will be reciprocated by your brothers. However, as life has taught us, people are ultimately individuals and will not always act in ways we can predict. With that said, make your collection process as simple as possible, accept cash if need be, use a SquareCard reader for card payments and attach it to your chapter's account, and allow a payment plan. The point is to make the act of collecting your chapter's dues (or any other payment—for instance chapter shirts or rent) as simple as possible. The dual benefit to making payment as accessible as possible is that it actively reduces excuses for brothers who would otherwise avoid the billing process. By opening up all payment options you pre-emptively dismiss the excuses of "I only have cash on me"; "I only have a credit card"; or "I don't have it all right now. I'll get it do you when I have the full amount." An equal opportunity payment system will save you a lot of time and future headaches from addressing these objections for each brother individually.
3. Set Expectations (Payment Date, Cost, and Penalties)

As we've mentioned before as regards collecting dues, one of the most important rules in accountability is setting the rules upfront and communicating them officially. How many times have you been in class on the first day and your teacher requires you to bring back your syllabus signed for the next class? They do this for two reasons: 1) to ensure you've acknowledged you've read the syllabus, and 2) to make you accountable for the guidelines of the syllabus for the rest of the semester, of which you've already signed and agreed.
When it comes to streamlining fraternity billing, set the guidelines at the beginning (and end) of every semester, and try to coincide this announcement with semester rush and intake. You want to make the rules clear from the very beginning, with both old and new brothers. Create a document that needs to be read and signed, create a Powerpoint presentation that clearly outlines the date that dues will be collected, the amount of dues, payment options, late penalties, and any contingency information for brothers with a lack of funds or difficulty paying.
2. Create a Tracking System and Execute

When it comes to streamlining fraternity billing, having a tracking system and executing becomes all-important. So what exactly is a tracking system you ask? A tracking system in this sense is exactly how it sounds, it's simply keeping track of your expenditures and savings. Although this can be difficult to create—particularly given the size of a fraternity's chapter or budget—it is nonetheless incredibly important to understanding the money that's coming in, as well as going out. For help in creating a system like this, it may be wise to outsource rather than configure all the one's and zero's yourself. This will give you piece of mind in the accuracy of your accounting, while also giving you ample time to simply be a student.
1. When in Doubt, Use a Digital Alternative

If all of this seems a bit intensive for a full-time student, we completely understand. Depending on your chapter size, you could be dealing with a handful of brothers or hundreds. This can be overwhelming for a fraternity's executive board that could have inherited a broken system: brothers that haven't paid dues in years, poor execution in collecting dues, etc. When these challenges present themselves and prove to be more intensive than what should be expected of a typical chapter administration, it may be time to streamline fraternity billing through digital means. There currently are a variety of digital management systems that are geared towards making the dues collection process as painless as possible. Companies such as OmegaFi provide financial services for chapters large and small. We'll bill and collect dues and rent, manage your rosters and records, pay your bills and employees, file your taxes, and even help you with marketing when you're building your website, as well as publish your newsletters and engage your alumnus. Your college experience should be fun, but as a student your first priority should be to your academic success and career. If streamlining fraternity billing is proving to be difficult, try outsourcing and give your fraternity the peace of mind necessary to thrive.
If you have any suggestions for how to streamline fraternity billing, let us know in the comments. If it's good, we may just add it to the list.