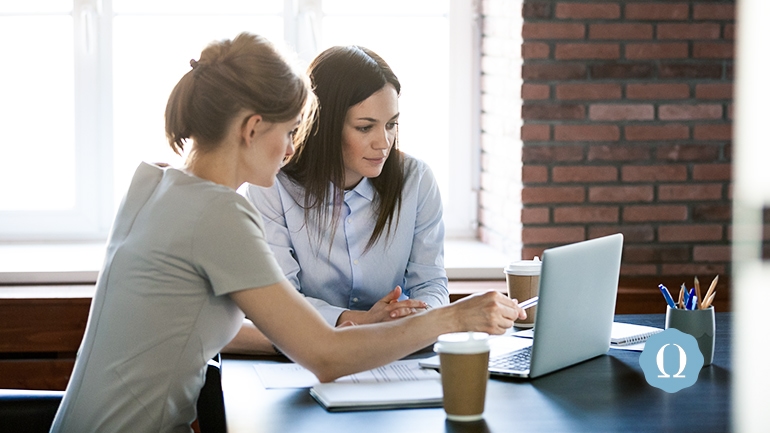 Sorority software tools can make a huge difference in how you manage your chapter—and yourself.
Being a leader among your sisters means stress, a full schedule, and a million things to keep track of from day to day.
If you're an officer, or just trying to make an impact, how do you keep it all straight and provide good management for chapter activities and goals? How do you ace your classes at the same time and keep it together mentally?
The answer, dear sisters, is software.
Okay, so a phone app isn't going to save you from all of life's challenges. Especially if that app happens to be Candy Crush Saga—although it may serve as a much-needed stress reliever.
Sisterhood's a challenge, no doubt, but it's not supposed to be all work and no play. It helps to find the right software tools for the right task, every time.
That way you can:
streamline what needs to get done
spend less time on chapter tasks
keep yourself on schedule with calendars and reminders
spend more time connecting with sisters
spend more time relaxing and enjoying college life
Even though you're the student now, with the right tools you'll become the master.
Here are OmegaFi's 4 Sorority Software Tools to Help Master Your Chapter.
Academic Software to Make the Grade
"Sisters are students first."
Everyone from your scholarship chair, to alumnae advisors, to your parents has repeated these words so many times that you hear them in your sleep.
We admit it: We've repeated this refrain before, too.
You're not only a student, though.
And you don't want to spend every waking moment studying, scrambling to figure out what's due when, and writing term papers all night.
Software tools can help you manage your time and studies so you aren't losing precious sleep.
For Sisters
There are plenty of free apps out there to help sisters with their studies.
One of our favorites is Chegg's Study software. Chegg Study offers homework solutions and guides, live tutoring, flash cards, a math equation solver, and more.

This is a "beyond the study hours" app for those times you don't have a study buddy available to keep you on track.
Plus Chegg is a well-known textbook retailer, so you can rent or buy your books (or ebooks) for classes, and have an integrated tool to go along with them. Usually their prices are pretty competitive and you can save money versus buying new from a university bookstore.
The app is free, and you can make in-app purchases as necessary.
For Chapters
Being in a sorority means keeping up with study hours. Good grades matter to your chapter and your college, and you've got to keep on top of it.
To never miss study hours again, and make sure everyone else is on the same page, use OmegaOne.
You can track study hours and check-in locations to make sure the Dean's List is brimming with your sisters' names.
OmegaOne is the Swiss Army Knife of sorority communication software. You can communicate with all sisters at any time from any place, and can share a calendar, pictures, files, and more.
As opposed to other communication software and social media, OmegaOne is designed especially for sororities, with your chapter's needs in mind.
Budgeting Software to Un-break the Bank
Budgeting quickly becomes an important part of a college student's life. This goes double for sorority sisters.
You're budgeting for not only yourself, but for your chapter as well.
Good or bad decisions with money can add up and leave you thriving or drowning, depending on which path you take.
Sorority software can supercharge your budget and make a difference.
For Sisters
Chime offers free online-only banking, with no hidden fees or overdraft charges.
This can be a big deal when you're a student who's counting every penny to pay for a meal plan, books, and more.
The best part? You can use Chime to round up every purchase to the nearest dollar and put the remainder, or 10% of your paycheck, into savings.
Thinking about saving a lot at a time can be overwhelming, but if you're automatically putting away small chunks it can add up without breaking your bank.
You'll also get your paycheck sooner in direct deposit than with some other banks. That's a huge relief when you're waiting on your check to go shopping or put gas in the tank.
Your savings doesn't really earn much interest compared to other banks, but we think the positives are worth giving this software a try.
For Chapters
Good personal finances and good chapter budgeting go hand in hand, although your chapter budget is much more complicated and takes a lot more management.
For the heavy lifting, Vault can help manage your coffers and keep all your chapter's projects on track.
Our guess is that you want to spend less time on budgeting for your chapter and more time doing the things you're budgeting for.
But you still must do your due diligence, or else your plans will fall apart and put you in the red. You don't want to end up in the red.
Vault takes care of the repetitive, time-consuming tasks related to budgeting.
It puts your chapter's budget into one central location that's easy to access by officers, national advisors, and others.
Sisters can easily pay their dues online.
It takes care of banking transactions and financial reporting.
Your housing corporation can also handle leasing contracts and house budgeting using Vault.
Plus, you have backup from financial professionals at OmegaFi who can guide you through the budgeting process and beyond.
OmegaFi is an industry leader in Greek technology, and offers software solutions for sorority communication, budgeting, recruitment, and more. Check out what OmegaFi has to offer or call direct at 800.276.6342
What questions or comments do you have about sorority software tools? Let us know in the comments below.