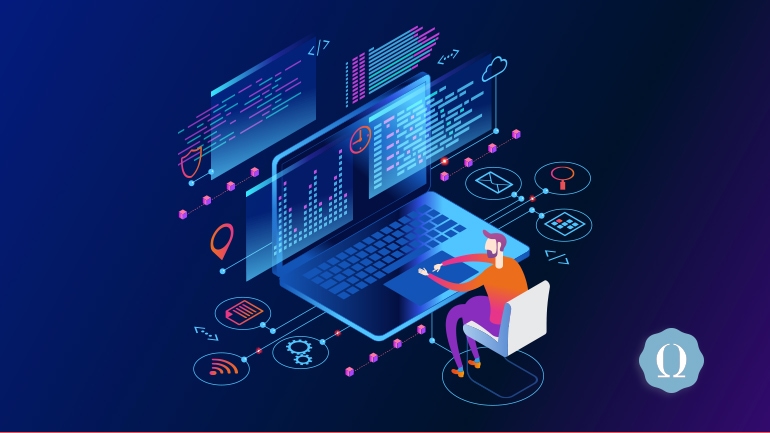 Fraternity software tools: You have them. You use them. But do you love them?
Chances are you haven't put a ton of thought into this. These are the tools the brothers before you used. They work well enough. What's the big deal, right?
They might've worked for the last class of brothers, but no chapter can do the same exact thing semester in and semester out and expect to succeed.
Times change.
Software itself is a fairly new solution to fraternal challenges. Yet, if you want to snag new recruits, budget, plan events, promote your chapter, or even communicate effectively, software plays a role in those goals.
But what makes fraternity software effective? Are the software solutions you're using now causing you extra work, and making all that effort less effective?
OmegaFi wants your software to work for your chapter, not the other way around. Here are 4 Easy Steps to Optimize Your Fraternity Software Tools.
Fraternity Software Tools Optimization, Step 1: Take a Hard Look at Why Your Budgeting Software Bytes

Your fraternity budgeting software process might be giving you headaches and leading to less intuitive management of your chapter's finances.
Here's How Your Financial Software Might Be Making Life Harder.
You're spreading your resources thin with a spreadsheet.
Spreadsheet programs are a quick and simple way to track chapter finances. Once it's set up, you just plug in the numbers for the new semester and you're good to go, right?
Maybe.
But ask yourself, is making adjustments as easy as it should be? Does it make sense to use a budget spreadsheet separate from other financial software tools?
Don't bank on separate banking software.
Your chapter bank transactions are probably done through the bank's software platform, but they won't connect to your budget spreadsheet. And your bank doesn't offer a dues payment system specifically for your brothers. This leads to extra steps in the process.
Paying dues is hard to do.
How do your brothers pay their dues and other chapter fees? Using a software interface? With invoicing software? Or do you simply deposit their checks manually?
Does this system interface with any other budget software you use?
Fraternity Software Tools Optimization, Step 2: Bringing Your Financial Tools Together

What if all your financial management needs could be met by one piece of software, instead of having to switch between programs and update the numbers in multiple places?
What if the problem is that your software tools aren't built specifically for your fraternity chapter, so they aren't intuitive or fluid enough?
Have you considered investing in premium chapter budgeting software like OmegaFi's Vault?
Learn How to Start Using Vault Today
Here are a few of Vault's functions that'll help your chapter budget better from day one:
Build and manage your budget with the help of OmegaFi's financial experts.
Invoice members and collect membership dues and other fees electronically.
Track financial reporting.
Manage and pay chapter bills.
Linked VISA Card.
OmegaFi also offers other budgeting software solutions. Use LegFi for a lighter, more self-serve budgeting and dues-collection experience. Invest in VaultPro for a complete, advanced financial management suite with help from an assigned account representative.
Fraternity Software Tools Optimization, Step 3: Untangling Crossed Lines of Communication

When you're trying to communicate with brothers, do you ever feel like your message gets lost in the void of cyberspace? Do you feel like important alerts, scheduling updates, or chapter planning details are ending up in everyone's inbox, yet no one is responding?
You may be experiencing a case of crossed lines of communication.
And your fraternity communication software tools may be to blame.
"Reply all" is the death of communication.
When your chapter has as many as a hundred brothers—each with a specialized role and expectations throughout the semester—sending the wrong info to the wrong people is a death knell of good communication.
When you have a generalized chat app, it's pretty easy to send everyone everything. It's much harder to send to specific groups of brothers in a quick and easy way.
But when a brother gets a message that doesn't pertain to him, it causes "information overload," and eventually he checks out and stops engaging.
You're connecting on more channels than your satellite cable.
You have a Google calendar for chapter events. A chat app for general communication. A Facebook group for specific chapter discussions. A cloud drive account for storing documents, photos, etc. Emails for longer communications like updates on outstanding dues.
But when you need brothers to cross between these channels? It's a major headache and causes major disconnects. Some brothers will see your communication. Some will see only part. Some will miss it altogether.
For day-to-day chapter communication, you need something built just for fraternities.
Social media owns your data.
When you connect on Facebook, Instagram, or Twitter, just remember that your chapter doesn't own the data you put out there.
And while you supposedly have a guaranteed level of security and privacy, private data on social media has been known to end up in the hands of some shady people, either by security breach or just the intrusive nature of being "very online."
So private or sensitive information regarding your chapter, obviously, shouldn't be stored there.
Fraternity Software Tools Optimization, Step 4: Bring Your Communication Chorus into Harmony

What if your communication software connected all the ways executives communicate with their brothers? Not only that—what if that software were built specifically for the ways brothers accomplish their shared goals?
You don't have to wonder. OmegaOne chapter communication software brings all your communication needs into one central hub. It's built specifically for Greeks, to be organic for your chapter needs.
Here's how OmegaOne brings chapter communication together in one fraternity software tool:
Events management functionality that lets you connect your chapter calendar with members and alumni, track attendance with geo-location and other check-in features, manage members' appeals, and send real-time updates and information.
Academic tools for scheduling and tracking study hours, as well as connecting brothers who share classes or subjects, to optimize school performance.
Emergency check-ins for any campus crisis, such as severe weather, a fire, an earthquake, or an active shooter scenario. Send repeating alerts members can reply "safe" or "not safe" to, and communicate with them during an emergency.
Pay your chapter bill using OmegaOne, making dues collection and management a breeze.
OmegaOne also connects with other chapter software tools, like Vault.
OmegaFi offers software solutions for fraternity chapters for recruitment, budgeting, communication, and more. Learn more about our services or call direct at 800.276.6342.
Leave your questions or comments about optimizing fraternity software tools in the comments below!