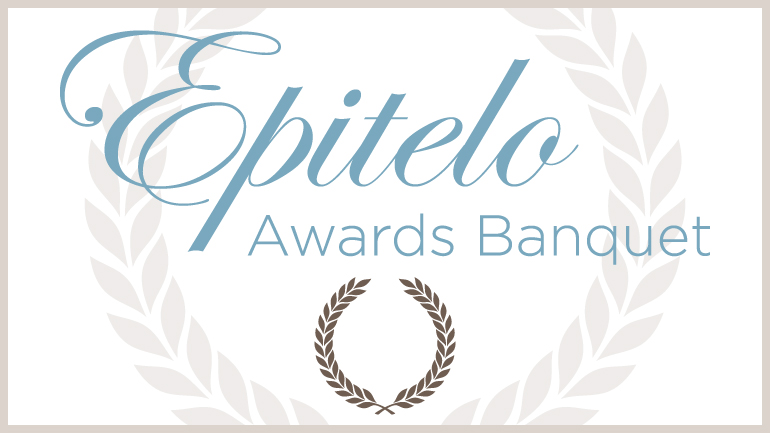 Agility. Innovation. Trustworthiness. Personal Excellence. Confidence with Humility. Commitment to Customer Service. These six attributes have defined OmegaFi since the beginning. In 2010 we declared them our official core values. To emphasize their importance and relevance in our successes, throughout the year we recognize via our internal intranet, The Station, coworkers who demonstrate any of these values in an exemplary way. We know that our achievement and development as individuals and as a company are dependent on consistently getting these things right. Last week, OmegaFi employees gathered together to recognize and celebrate in a significant and new way both our core values and our collective and individual achievements during 2014. We called this night Epitelo. It is the Greek word for "achieve."
That night, we honored one individual coworker whose actions consistently exemplify one of our six core values. We also recognized one overall Epitelo award winner who sets an example for us in their regular attention to and demonstration of all of our core values. It was clear that each honoree was both surprised and humbled when the realization set in that it was they the presenter described in the lead up to the announcement of their name. It was equally apparent, given the happy, enthusiastic applause and the atmosphere following the presentations that their co-workers were not surprised at all.
The 2014 OmegaFi Epitelo honorees are: Kristen Humber, National Services Coordinator (Agility) Ryan Phaneuf, Database Developer (Innovation) Lisa Talley, Executive Administrative Assistant (Trustworthiness) Mathew Tooker, Sales Representative (Personal Excellence) JaDon Bell, Account Manager (Confidence with Humility) Marcie Tucker, Account Manager (Commitment to Customer Service) Heather McLeod, Chapter Services Coordinator (Epitelo!)
Congratulations, once again, to these recipients for hard-earned and well-deserved recognition! We are proud to work beside you and to honor you in this way. It is community and trust and an understanding of the value of our values that sets OmegaFi apart, both as a partner to our customers and as a place for people with common personal core values to work side-by-side, knowing that our work makes a difference. Not only are our accomplishments directly related to our core values, but they are either catalysts for or derivatives of the success of our customers - Chapters, House Corporations, Alumni Associations, National and International Headquarters and even the Fraternity and Sorority community at large. In fact, we understand that our successes are inextricably intertwined with theirs. Like OmegaFi every Greek organization prides themselves on their history, their purpose and their values. And like many of these groups OmegaFi's beginning was humble. But as our Founder and CEO, Todd Reaves, said during his remarks during the awards ceremony, it's been our purpose from our earliest days 23 years ago to solve real problems for Greek organizations. What began as an idea – to many, a far-fetched one - that might help undergraduate chapters overcome seemingly insurmountable age-old challenges with record-keeping, collections and lack of consistency due to turnover of leadership has evolved into holistic, customized, real solutions that increase revenue and help fraternities and sororities operate more efficiently so they can build thriving fiscally sound communities across generations of their membership. To thrive is to succeed. Achieve. Epitelo.